'The Simpsons' Pays Tribute To Hayao Miyazaki In Reference-Filled Sequence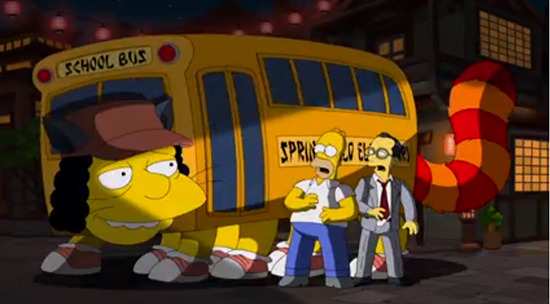 When Homer Simpson and a salaryman friend wander the streets after drinking too much wine, they find themselves in an altered reality derived from the films of Hayao Miyazaki. Yep, in The Simpsons' ceaseless quest to catch our attention with short, referential sequences, the show has bowed deeply to the master animator with a sequence packed with visual gags that will be recognizable to even casual fans of the director.
That's one of the sequence's big nods, above, but there are plenty more in the scene, which you can see below.
Of all of those gags, the animal ghosts escaping Krusty Burger are the weirdest —  a good concept, but the particulars push it far away from the whimsy that defeats Apu. Whether Miyazaki would accept all this as tribute is difficult to predict.
This episode airs this Sunday on Fox. Embed via Slate.