'Justified' Likely To End After Season 6, Says FX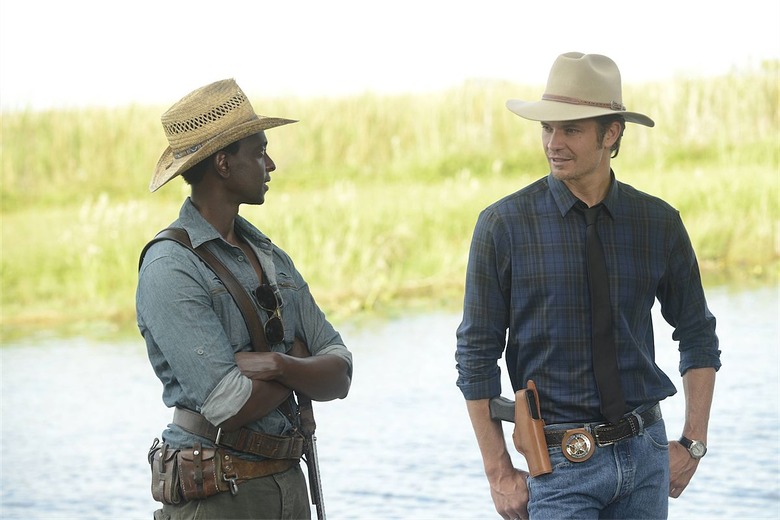 As Justified enters its fifth season, fans may want to savor their time with Raylan Givens (Timothy Olyphant). There may not be too much of it left.
Showrunner Graham Yost has previously said that he sees his Western drama running for six seasons, and though it's not unheard of for a show to run beyond its originally intended lifespan if it proves popular enough, it seems that in this case he has the network backing him up. At a recent event, FX president Nick Grad confirmed that a six-season run is "the plan right now." Hit the jump to find out why.
We like having shows that rate really well, and there's an instinct that you want it to go on forever. But it doesn't. Another metric that's important to us [beyond ratings] is, 'What shows are going to be talked about in the next 20 years?' If you're making a great, 80-hour movie, it has to have a beginning, middle and end. Going out at the right time is going to make your show last forever — we want to make shows that stand the test of time.
Yost, for his part, has said that six seasons is about a good length since anything longer runs the risk of turning into "Elmore light."
The advantage of ending a show at the right time was perfectly illustrated last year in the very different reactions to the Dexter and Breaking Bad farewells. Both started out as acclaimed shows, but one finale was regarded as a ridiculous capper to a show that had run out of creative steam years ago; the other was a (mostly) satisfying end to a TV drama that will surely be remembered as one of the greatest of all time.
So if Yost and his bosses want to gracefully bow out after Season 6, more power to them. But I'm betting lots of fans will be sad to say goodbye all the same.