Ben Affleck Cuddles With A Corpse On EW's 'Gone Girl' Cover, Shot By David Fincher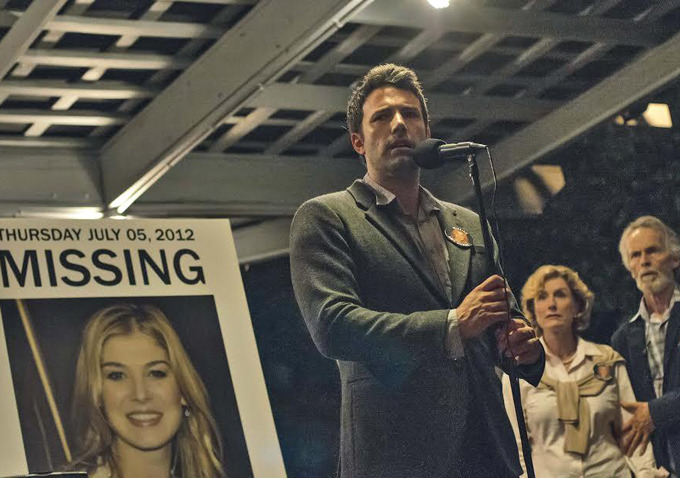 Following 2011's chilly The Girl With the Dragon Tattoo, David Fincher is back with another dark, twisted literary mystery — this one based on Gillian Flynn's smash hit novel Gone Girl. The pic features Ben Affleck as Nick Dunne and Rosamund Pike as his missing wife Amy, and the first still hit a few weeks back. Today we have another, less literal peek at the film. And what it promises is that this adaptation will be every bit as creepy as fans of Fincher and/or Flynn could hope.
On the latest cover of Entertainment Weekly is a promotional photo for Gone Girl, shot by Fincher himself, that features Affleck cuddling with an apparently dead Pike. It's not a still from the film, and doesn't correspond to any actual scene from the book. But maybe that's the point — Fincher and Flynn say that they tried not to be too precious about the source material when making the movie.
Hit the jump to see the image and read their comments.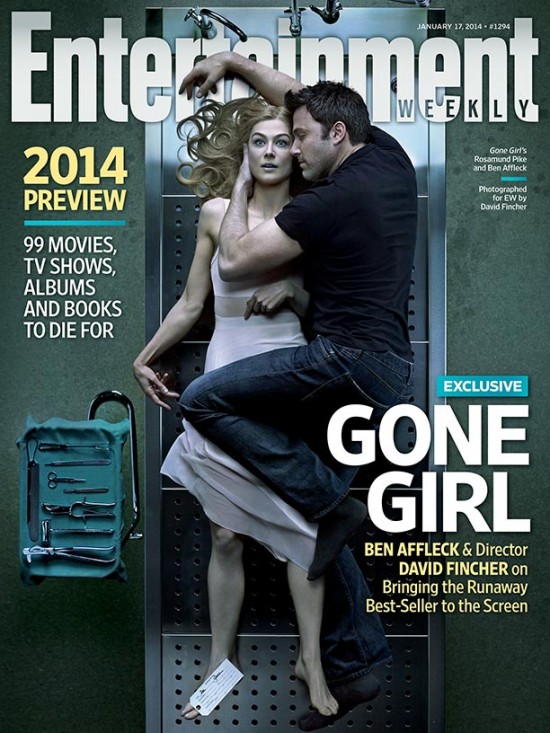 Flynn's 2012 book centered on Nick and Amy, a not-so-happily married couple who've recently relocated from New York City to the Midwest. When the wife goes missing on the day of their fifth wedding anniversary, Nick becomes the prime suspect in her disappearance for various reasons — one of which is the simple fact that he's kind of an a**hole.
Which puts him right up Fincher's alley. "I don't know what 'likable' is. I know people who are doting parents, who give to charity, drive Priuses, all those things, who are insufferable a**holes," he told EW. "I like people who get shit done."
The original novel crammed all sorts of crazy twists into an unusual structure that alternated between Nick's present and Amy's past. But don't expect the adaptation to tell the tale in exactly the same way. The director revealed that one big lesson he took away from Dragon Tattoo was that he "may have been too beholden to the source material."
For her part, it sounds like Flynn is perfectly fine with making some changes to her story. "There was something thrilling about taking this piece of work that I'd spent about two years painstakingly putting together with all its eight million LEGO pieces and take a hammer to it and bash it apart and reassemble it into a movie," she said.
Gone Girl hits theaters October 3.