Radio Silence Explains The Collective's Approach To Found Footage And 'Devil's Due'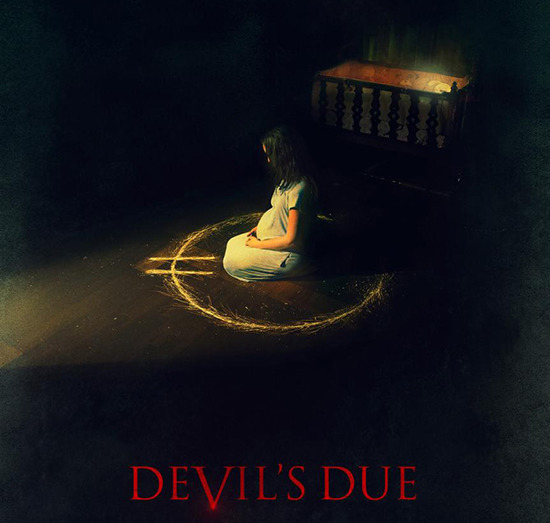 Radio Silence is a collective of four filmmakers (Matt Bettinelli-Olpin, Tyler Gillett, Justin Martinez and Chad Villella) who made a series of online shorts and then broke out with the final sequence in the original V/H/S. Now the group is putting the finishing touches on Devil's Due, a found-footage horror film produced by the team at Fox that was behind Chronicle. We got a chance to preview some scenes from the film a couple weeks back, and sat in with an Eli Roth-moderated talk with the Radio Silence guys about how they're making the leap to feature work, and their general working methods, including handing off the camera to actors so that the POV performance is really created by the cast.Devil's Due follows a young couple that stumbles into a very strange party on their honeymoon, and details how the pregnancy that results has the woman afraid that her baby isn't quite right. There's a heavy debt to Rosemary's Baby — a relationship the filmmakers acknowledge from moment one — but also the simple aim to create a weird, scary film.
The clips we saw lay out a lot of the film's story, so I won't recount them here. One, which stands on its own to some extent, has just been released to the public, and you can see it below.
Matt Bettinelli-Olpin and Tyler Gillett are credited as directors on the film, which was scripted by Lindsay Devlin, but the collective is really functioning as they have in the past. The guys say this was no situation where the studio tried to change the way they work.
Matt Bettinelli-Olpin: We've been working together for four or five years now. We had a bunch of online shorts that we would make in our free time after work, on weekends — HUGE budgets, like mid-double digits — and then we got hooked up with VHS. All the way from the stuff when it was just the four of us in a car shooting something to doing this movie, we as much as humanly possible tried to keep the process the same. WE can all rely on each other and help each other. Fox has been fantastic about allowing us to take what we do and move it into their system.
The group all praised the film's cast, led by Zach Gilford and Allison Miller, and explained that the two enabled them to work just as they wanted to:
Tyler Gillett: It's all about conversation — everyone wants the best possible product. Zach and Allison fit right into the group. We were able to have conversations about scenes, what worked, what lines work, what didn't work, we could get the big objectives of the scenes out, and then just have fun afterward, let them play and see what little gems they could find on the character and relationship side.
The most interesting point, coming from a group of filmmakers that works as a collective, was the talk about how the film is shot, given that the end result is found-footage and POV. In short, footage is collected by both the filmmakers and actors.
Matt Bettinelli-Olpin: We all know operating, we all know the camera really well. One of the biggest decisions we made very early on, which dramatically influenced our shooting style, was the type of camera we shot on. We used a Sony EX3, which is one of the few 3-chip cameras that really holds up to projection. We can't say enough about how cool the EX3 is. We could do some crazy things with it without having to build elaborate camera rigs, and engineer these crazy things that you'd need with a larger camera build.
We just gave the camera to the actors a lot of the time. There are a fair number of moments where they're actually operating the camera themselves. We're always there to step in if the focus is floating, to make adjustments, but a lot of times we let them run the scene with the camera themselves, then to get a better version we'll step in and guide the action. So first it's "here's what the performance of the camera is in this scene" and then we make it a little better.
That was the biggest fourth wall we had, and it took some practice and choreography to fall in lock-step with the actors. It was strange for me to be operating a shot and have Zack standing behind me so there are no eyeline issues, so Amanda is acting to his improv. Within a day or two it was really clear what that was going to be. We're really fortunate that it happened so fast. It was a big stress of ours when we were entering production — how will we capture the intimate part of this movie if we're rubbing shoulders with the cast and crew the whole time.
And despite the fact that Radio Silence is working with Fox, they still approached quite a lot of the effects work on their own.
Justin Martinez: The EX3 is not a camera that works well with effects — it's very hard to track. But it was worth it to us to be able to have the actors hold the camera. In these movies, though, if you can see it, you can put something in it. It was no different from what we did in [the V/H/S segment].
Chad Villela: And we had hidden cameras, and ran those through a beta, so the footage is basically analog, and you can cover up a lot of stuff there.
JM: We had one production house that we worked with for post, but I'd say I did 40% of the effects myself. It was cool to have a team to work with, and to guide them on stuff I couldn't do, but we tried to do things the same.
Matt Bettinelli-Olpin: We'd sit in an office together, and because Justin is so good at it, we'd say "what if we tried this," and then after lunch we'd have something awesome.
JM: And for me, half the time it's a lot easier to just do what we want to do rather than send it off to a post house and do the "that's not right" feedback. If I just do it right there... it just feels like part of the process. And Fox supported that rather than make us do something different.
We'll see how the bridge between super-indie working methods and the studio system worked out when Devil's Due opens on January 17.