/Film Visits The Set Of 'Muppets Most Wanted'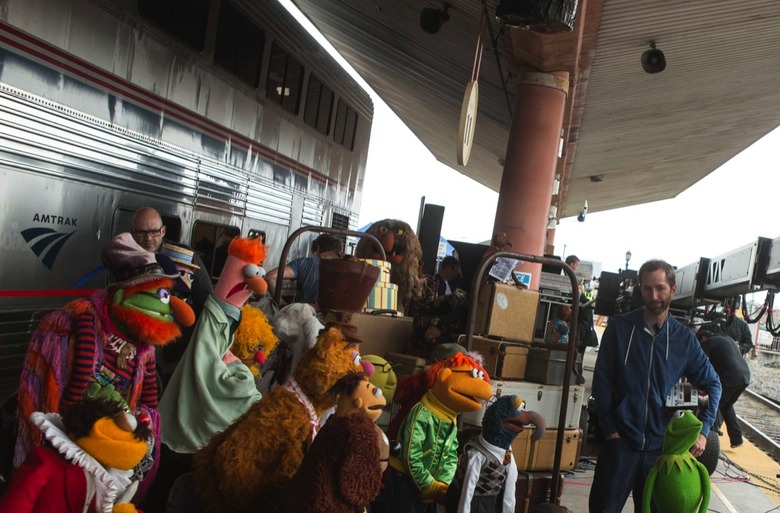 On May 6th 2013, I ventured downtown to visit the set of The Muppets 2 (now titled Muppets Most Wanted). Anyone who knows me knows that I'm a huge Jim Henson fanatic and love love love The Muppets. One of the greatest results of starting this site was being invited to the set of a Muppet movie and getting to talk to Kermit and the gang. For 2011's The Muppets, we were on set to watch the Muppets drive up to the ABC (disney-owned) news station in a car. For Muppets Most Wanted, I got to see dozens of Muppets about to board a train at Union Station. I'm thinking that I might just be lucky enough to watch the Muppets exit a plane onto the tarmac at LAX if they ever make another Muppets film.
I must admit that while on set we didn't learn too much about this new Muppet adventure. Everyone involved was very hush hush not to spoil too much. Also the day we were on set it was just The Muppets, so we didn't get to talk to any human actors what-so-ever. But we did get to talk to Kermit, Miss Piggy and Walter, and those interviews were a lot of fun, I hope you read em.
We were on set for Day 63 of production, and they were shooting scene 14, which takes place early in the movie. We watched while on Platform 11, in between two trains, as Kermit pitched the whole Muppet crew on a train he booked for The Muppet Show world tour.
The group of Muppets in the shot include Swedish Chef, Beaker, Brunson, Sweetums, Fozie, Rolf, Animal, Walter, Gonzo, Rizzo (sitting on one of the luggage carts), Dr Teeth, Jeanie, Thog, Scooter, and Lips. It was really crazy to watch a dozen Muppeteers sitting on the floor crunched together to pull off a dense crowd shot. You would never guess how very uncomfortable it looks below one of these shots. We stood behind the puppeteers with the radio controlled remote controls to control Sweetums eyes and the Rizzo the rat's limbs.
While I was not allowed to take photos on set, commuters took photos from the other train platforms. Here is a twitpic and instagram from the day I was on set:
@PACSurfliners @Amtrak_CA star sighting: Kermit the Frog filming a muppet movie at LA Union Station @amtrak pic.twitter.com/18RvrQihuO
— IT (@eye_tee) May 6, 2013
I can't explain how awesome it is to watch Kermit talking about his acting choices in between takes. They needed to stop a take because a plane was flying overhead and Kermit without missing a bit looked up, a bit annoyed and impatient.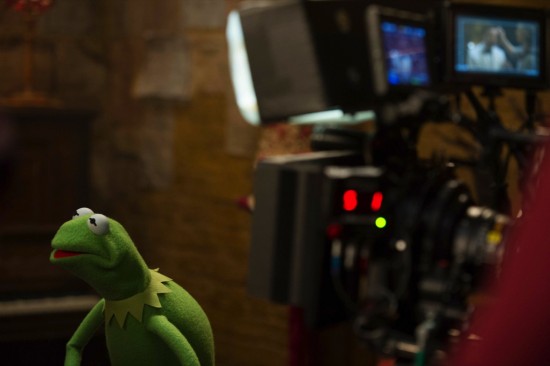 Here is what I learned while on set of Muppets Most Wanted:
They were filming using a blue screen. They can't use a green screen because of Kermit.
The Muppeteers wear headbands with mics, Kermit's puppeteer wears a green headband that stands out from the rest of the animators.
In between takes a bunch of people go around and fix up the Muppets hair and fur like a hairdresser and a makeup artist would fix up a movie star in between takes. They pluck at Kermit's furry body, fluffing his little fur.
The crates in the background of the train set feature a bunch of gags and Muppet references: One huge crate labeled to El Toro with a silouette of a bull. One crate says Pigs in space prop. One features the outline of band equipment with "Electric Mayhem" stenciled on them. On the track across the way is a cart with some of the set lettering and columns from The Muppet Show, waiting to be loaded onto the train.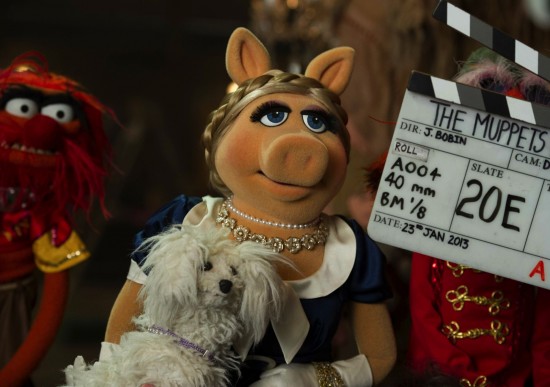 While trains don't currently have a way to cross oceans, the Muppets will take the train to Europe (using some Muppet magic).
While she couldn't confirm reports that she will be getting married in this film, she can say that she will be wearing an extravagant white dress for one sequence. Ms. Piggy says she has a solo musical performance in this film. The song is about a "big event" in her life, a big event that involves the white dress.
While the last film was about introducing the Muppets to a new generation, this time it's about having more fun. This movie has less references to the past, and is more about moving the Muppets forward again.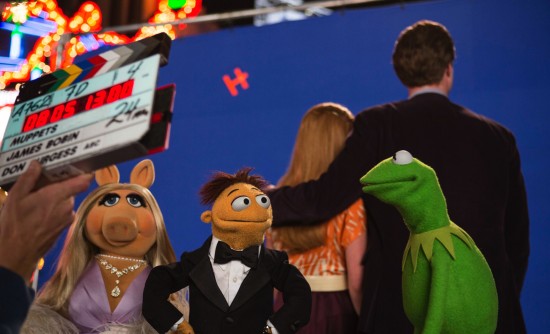 This film is a stand-alone story, and not a sequel to The Muppets. But the film begins seconds after the last film ended with the musical number in front of the Muppet theater on Hollywood Blvd. Gary and Mary's (Jason Segel and Amy Adams) absences aren't addressed in this film, although from the photo above it looks like we see the back of their characters (played by doubles).
Muppets Most Wanted will continue the tradition of celebrity cameos. There were more people who wanted to be in the movie than they had slots. The list of people they couldn't fit includes Oscar and Grammy winners.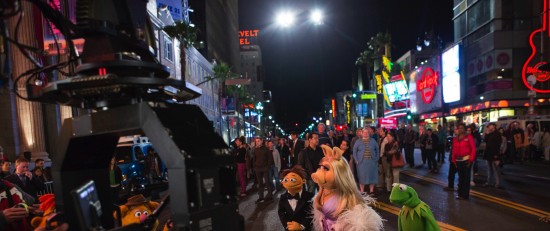 Walter, the new Muppet introduced in 2011's The Muppets, is back in Muppets Most Wanted. Walter's character discovers a secret in the film, which Fozzie and Rolf help him bring to light. For those wondering, Walter does whistle one time in the film, and is still wearing his classic Kermit watch.
We will see one or two Muppets that weren't seen in the last movie.
A classic Muppet song will be performed in the movie, somehow.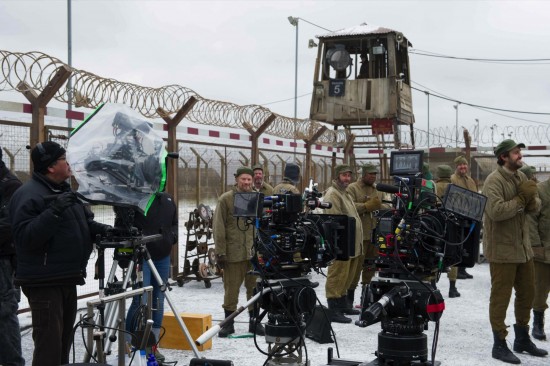 New characters include a Kermit doppelgänger named Constantine, played by a different Muppet performer. Ricky Gervais plays Kermit's tour manager, named Dominic Badguy. And Tina Fey who plays a prison guard in a Siberian prison where Kermit ends up after being kidnapped.
Tina Fey performs a musical number reminiscent of Rocky Horror Picture Show. The number is called "The Big House", welcoming Kermit to prison,
Kermit becomes sort of an action hero by the end of the film.
They already shot in Europe for about three months. They shot a lot of the film at Pinewood. The Tower of London has never allowed a major film to shoot inside the tower walls before. Muppets Most Wanted was the first to get permission.