Theme Park Bits: First Disneyland 'Star Wars' Changes Potentially Greenlit, Plus 'Ratatouille' Rider Teaser Video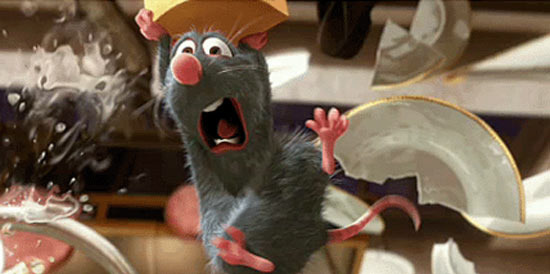 2014 marks the opening of a brand new Pixar themed Disneyland thrill ride...in Paris. Below, watch an official teaser trailer for Ratatouille: The Totally Zany Adventures of Remy as well as the following:
A tentative first phase of Star Wars Land has been green lit as Imagineers get Star Wars Episode VII info; plus more Disneyland rumors.
Doc Brown's Chicken at Universal Studios Hollywood has officially closed.
What if Epcot's World Showcase changed its theme entirely?
Thanks to Disney and More, here's the teaser for the Ratatouille ride. You can read more at that link, though much of it is in French. It opens at Disneyland Paris later this year.
A few months back, MiceAge reported the Star Wars/Tomorrowland changes had been put on hold due to budget cuts. Now, however, the informative column suggests a less-intense first phase has in fact been given the green light. No date has been set but the entrance to Tomorrowland at Disneyland in Anaheim will begin to get a cosmetic Star Wars makeover to make it look like a space port. As for all the rides and stuff like that, it's still on the backburner, but this progress suggests it will happen.
Also there's this info:
The Imagineers assigned to the Star Wars Tomorrowland project have now been debriefed on the characters and plotlines coming for Star Wars Episode VII that opens in theaters in about two years. The original plan for Disneyland's Tomorrowland relied heavily on characters and plot points from the first three Star Wars films, with attractions like a Millenium Falcon walk-thru on the old PeopleMover platform, a wild Tatooine cantina replacing Tomorrowland Terrace, and a speeder bike ride through an Ewok village where Autopia currently sits. Those key attractions are all still part of phase two, but they are being layered or tweaked to include references from Episode VII that will be released in theaters at least 18 months before any of those attractions open.
So expect these changes sometime in 2017, tentatively. J.J. Abrams has finally opened his mystery box to Imagineers.
Head to the column to also read about the closing of the Finding Nemo submarine ride and how its fate is tied to Star Wars, as well as the upgrade to Soarin' Over California.As previously reported, Doc Brown's Chicken at Universal Studios Hollywood has officially closed. The restaurant was there originally to go with the Back to the Future ride, but that ride closed in 2007. Read more at Inside Universal.
We also previously wrote about the possibility of a Frozen ride going into the Norway pavillon of the World Showcase at Epcot Center in Orlando, Florida. Disney and More took that idea and ran it to a potential conclusion that Disney could slowly forgo the World concept entirely in favor of something more cartoon themed. They make good points. Read at their site.