Watch The First 15 Minutes Of 'Helix' From 'Battlestar Galactica' Revival Producer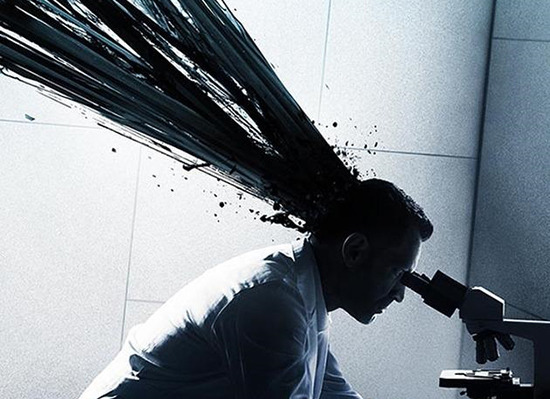 Helix, the new show from Ron Moore (Battlestar Galactica) has been previewed in a series of atmospheric and ominous teasers. But it's the main print ad (above), also seen around LA on giant billboards, that has really caught my attention. (Nothing like staring at an exploding head while you're stuck in traffic.) Now, with just under a week to go before the show premieres, SyFy has put the first fifteen minutes online, so you can preview the beginning of the show's disastrous situation in the Arctic.
As that footage starts to make clear, Billy Campbell is Dr. Alan Farragut, leader of the Centers For Disease Control's Special Pathogens Branch. At the Arctic Biosystems base, he finds Dr. Hiroshi Hataki (Hiroyuki Sanada), who may have a hidden motivation or two. Kyra Zargosky is Farragut's ex-wife and colleague Dr. Julia Walker; Jordan Hayes and Catherine Lemieux are Doctors Sarah Jordan and Doreen Boyle, members of Farragut's rapid response team; Mark Ghanime is Major Sergio Balleseros, the Army liaison for Farragut's group; Meegwun Fairbrother is Arctic Biosystems' head of security Daniel Aerov; and Neil Napier is Farragut's brother Dr. Peter Farragut, a scientist at Arctic Biosystems.
Helix premieres on SyFy on January 15.
Helix is an intense thriller about a team of scientists from the Centers for Disease Control who travel to a high-tech research facility in the Arctic to investigate a possible disease outbreak, only to find themselves pulled into a terrifying life-and-death struggle that may hold the key to mankind's salvation or total annihilation. However, the lethal threat is just the tip of the iceberg, and as the virus evolves, the chilling truth begins to unravel.