Stream Episodes Of 'House Of Lies', 'Episodes', And Joseph Gordon-Levitt's 'HitRecord'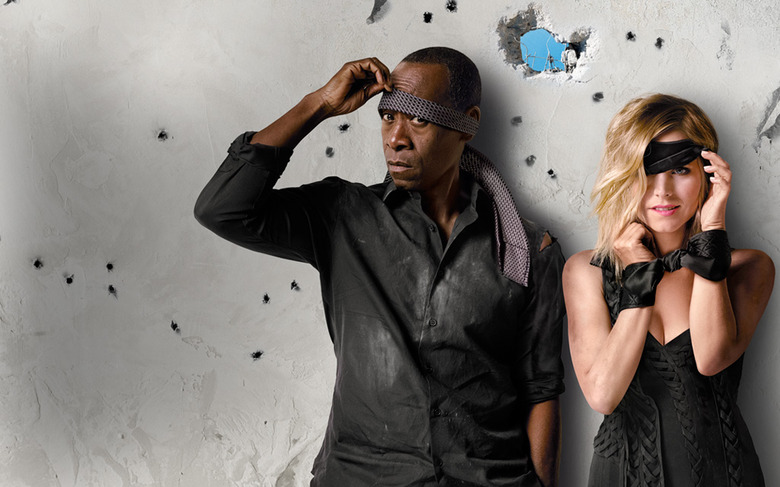 It's been a very slow couple of weeks for television, as most shows go on hiatus for the holidays. But now that New Year's Day is in our rearview mirror, it's time to dive back into some returning favorites and get to know some promising newbies.
In the former category are Showtime's House of Lies and Masters of Sex, while the latter includes Joseph Gordon-Levitt's variety show HitRecord on TV. And the good news is that you can get a head-start on your winter TV-viewing by watching the first episodes of all three shows online, for free, right now. Hit the jump to take a look.
As a bonus, Showtime has also uploaded a video of House of Lies Live at the Upright Citizens Brigade Theater, in which the cast (including Don Cheadle, Kristen Bell, Ben Schwartz, Lauren Lapkus, and Josh Lawson) performs long-form improv. It's almost like getting a bonus episode... well, not really, but at least you get to spend some extra time with this sparkling cast.
House of Lies returns to Showtime for Season 3 on Sunday, January 12 at 10 PM.
Moving on, here's the new installment of Episodes. Matt LeBlanc stars (and even won a Golden Globe in 2012 for doing so) along with Stephen Mangan and Tamsin Grieg.
Episodes' third season kicks off on Showtime right after House of Lies' does, on Sunday, January 12 at 10:30 PM.
And finally, here's your daily dose of JGL. HitRecord on TV is a variety show consisting of shorts, animation, music, live performances, and more, all done by Gordon-Levitt's cozy HitRecord community. Each episode is arranged around a single theme; appropriately, the first-ever episode is all about the number one.
HitRecord on TV debuts Saturday, January 18 on Pivot, with two back-to-back episodes.