'Kite' Trailer And Clips: Samuel L. Jackson Mentors Another Killer Teen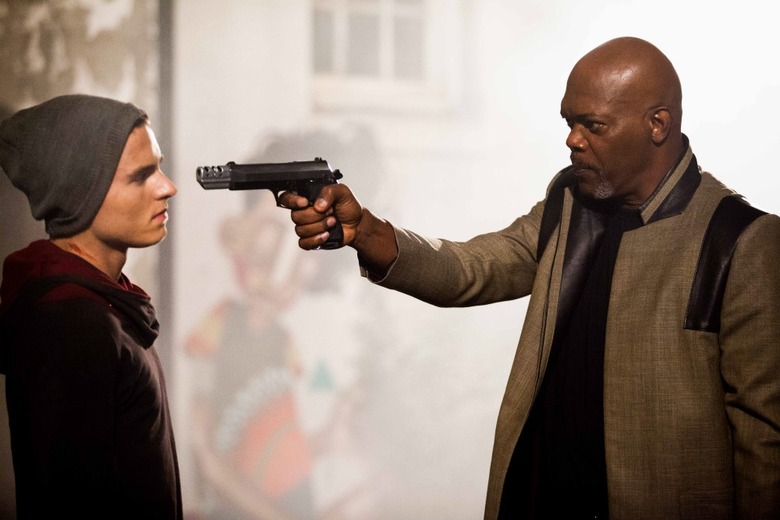 Late last week, we got our first peek at Barely Lethal, starring Samuel L. Jackson as the mentor to a teen assassin played by Hailee Steinfeld. Today, we have our first peek at Kite, starring Samuel L. Jackson as mentor to a teen assassin played by India Eisley. The difference is that this time around, we're looking at a gritty, anime-based actioner, rather than a Mean Girls-esque comedy.
Eisley leads as Sawa, a young girl left orphaned after her policeman father is killed. Under the guidance of her dad's ex-partner Karl Aker (Jackson), she trains as a killer and sets out to avenge her parents. Callan McAuliffe (I Am Number Four) also stars. About nine minutes of footage have just been released, including the first trailer and a few clips, and you can check them out after the jump.
[via Bloody Disgusting]
The 1998 anime was (in)famous for its extreme, graphic depictions of violence, sex, and rape. The live-action English-language adaptation probably won't go quite as far, but the video does have some nice bits of gore. The hole through the guy's hand is a particular highlight.
Overall, the video makes Kite look like Kick-Ass by way of Sin City. Sawa has Hit-Girl's beyond-her-years toughness and her colorful wigs, but the world around her has the grim, dangerous atmosphere of Sin City. And like both movies, Kite is heavily stylized in a way that makes it feel like a comic book or cartoon come to life.
Ralph Ziman (Gangster's Paradise: Jerusalema) directed, replacing the late David R. Ellis (Snakes on a Plane). Kite doesn't seem to have a U.S. distributor yet, let alone a U.S. release date, but it seems likely to land this year.
Oh, and here's the trailer for Yasuomi Umetsu's original Kite, if you'd like to compare.