First Look: Hailee Steinfeld Does Her Best Hit-Girl In 'Barely Lethal'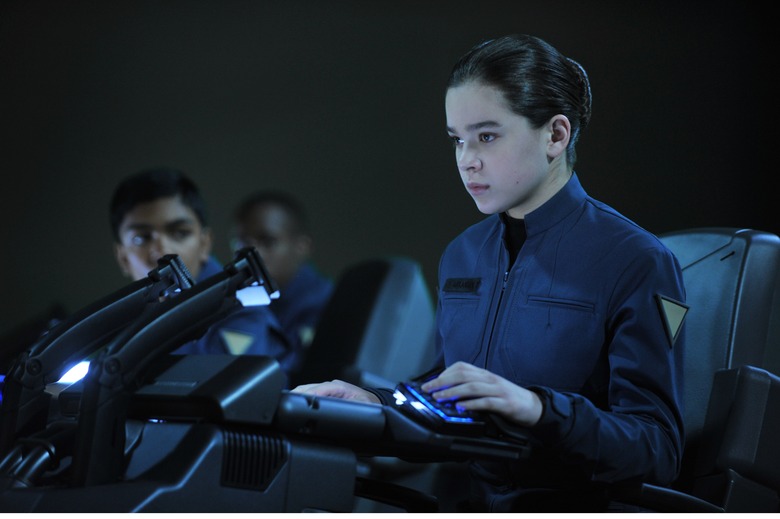 After taking on forbidden love in Romeo & Juliet and Battle School in Ender's Game (above), Hailee Steinfeld is ready for a real challenge: high school. Well, that and killing people.
Kyle Newman's upcoming action-comedy Barely Lethal stars the True Grit actress as a teen assassin who's ready to leave her killer life behind and try her hand at a normal adolescence. Unfortunately, her former handler (Jessica Alba) has other ideas. Hit the jump to check out the first stills from the film, featuring Steinfeld, Alba, and Samuel L. Jackson.
The publication describes the film as "Mean Girls with guns," but the premise also brings to mind a bunch of teen girl assassin movies, like Kick-Ass 2 and Hanna. Like the heroines of those films, Steinfeld's Megan has been raised to kill from a young age.
But when she finally breaks away from that lifestyle, she finds that "normal" teen life is its own challenge — one Megan deals with the only way she knows how. "She treats high school like a ­mission," explains Newman. "Her briefing is Teen Vogue, Seventeen, and everything from Mean Girls to Clueless."
It doesn't help, either, that her old life is more reluctant to let go of her than she is of it. Alba's Victoria sends another girl named Heather (Sophie Turner, a.k.a. Sansa Stark from Game of Thrones) to infiltrate Megan's new high school and bring her back. Good thing Megan appears to have Jackson on her side; he plays her mentor Hardman.
Barely Lethal arrives this fall from Main Street Films.
A high-octane action comedy with a high school twist!
Weary of her life as a teenage Special Ops Agent, 'Megan' (Hailee Steinfeld) fakes her own death and enrolls in a suburban high school. Hoping to live the life of a "normal" teenager, she discovers that being popular, dating, and fitting in isn't as easy as she thought. Complicating matters is 'Victoria' (Jessica Alba), her former handler and current nemesis, who enlists rival teen Special Agent 'Heather' (Sophie Turner) to go undercover at her high school and capture her. Academy Award® nominee Samuel L. Jackson portrays Megan's mentor, 'Hardman.'