'The Amazing Spider-Man 2' Clip: Electro Lights Up NYC's Times Square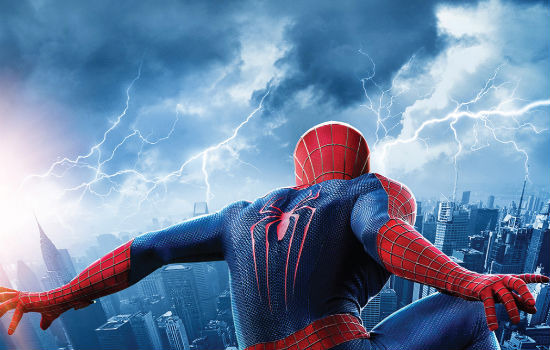 As revelers crowded into New York City's Times Square last night to ring in the New Year, Electro (Jamie Foxx) was dropping by the iconic intersection for a different, far more nefarious reason.
In a new clip from The Amazing Spider-Man 2 that debuted at last night's festivities, the supervillain makes a pit stop in midtown Manhattan to soak up some of its electricity and to release some of his fury. Luckily, our friendly neighborhood Spider-Man (Andrew Garfield) is on hand to try and stop him. Check out the clip after the jump.
We've always known that Spider-Man's most important battle has been within himself: the struggle between the ordinary obligations of Peter Parker and the extraordinary responsibilities of Spider-Man. But in The Amazing Spider-Man 2, Peter Parker finds that a greater conflict lies ahead.
It's great to be Spider-Man (Andrew Garfield). For Peter Parker, there's no feeling quite like swinging between skyscrapers, embracing being the hero, and spending time with Gwen (Emma Stone). But being Spider-Man comes at a price: only Spider-Man can protect his fellow New Yorkers from the formidable villains that threaten the city. With the emergence of Electro (Jamie Foxx), Peter must confront a foe far more powerful than he. And as his old friend, Harry Osborn (Dane DeHaan), returns, Peter comes to realize that all of his enemies have one thing in common: OsCorp.
Directed by Marc Webb, The Amazing Spider-Man 2 lands in theaters in 2D, 3D, and IMAX 3D on May 2. Emma Stone, Dane DeHaan, Paul Giamatti, Sally Field, Felicity Jones, and Chris Cooper also star.