Dwayne Johnson Teases DC Comics Project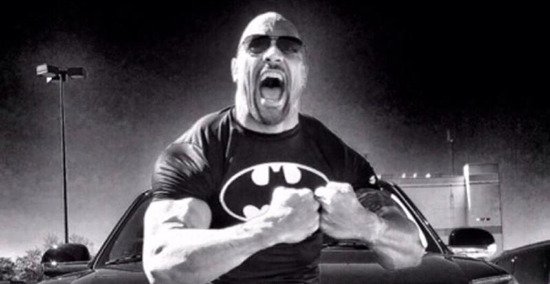 2013 was the year of teases from Vin Diesel. Maybe that gave his Fast & Furious co-star Dwayne "The Rock" Johnson some ideas, because the Rock is now doing a tease of his own. In answer to fan questions via Twitter today, the star said "We just had a big meeting w/ Warner Bros CEO re: @DCComics 2014 we will partner up and create the cool bad assery. #RockTalk"
What's he alluding to, and is it a movie, or a comic book project?
A while ago Johnston had been attached to play Lobo in a film, but he said that "went away" quite a while back. He's also been linked to play Black Adam in a Shazam movie, but that project seems even more dead than the Lobo film. So who is the Rock gearing up to play for WB and DC? And will it be a film of his own, or in Zack Snyder's sequel to Man of Steel?
Or all all those questions even aiming in the wrong direction? You wouldn't think that the Rock would be meeting with the CEO of WB if he was just working on a comic book project for DC, but with this little detail to go on, it's hard to say... and the particular wording still suggests Lobo.
We just had a big meeting w/ Warner Bros CEO re: @DCComics 2014 we will partner up and create the cool bad assery. #RockTalk @ActionTilson

— Dwayne Johnson (@TheRock) December 31, 2013
The actor also mentioned a couple things about other upcoming projects:
My fav role of all time without a doubt is HERCULES. 10 years of hard work & slow prep for the role. Summer 2014. #RockTalk @SketchHenry

— Dwayne Johnson (@TheRock) December 31, 2013
In JAN the other Hercules movie will come out. Lutz is a good kid and wanted to work. I love competition. Bring it on. #RockTalk @BADGUYPAT

— Dwayne Johnson (@TheRock) December 31, 2013
Hawaii is my fav. Cool to announce my next film, SAN ANDREAS will be filmed in Brisbane, Australia. #April #AussieLove #RockTalk @GBP4EVER

— Dwayne Johnson (@TheRock) December 31, 2013
I'll clarify. SAN ANDREAS (my next movie shooting in April) is the first ever big 3D earthquake disaster film. #RockTalk @OliverRosslee

— Dwayne Johnson (@TheRock) December 31, 2013
Im cautiously excited to start shooting NOT WITHOUT HOPE. To tell this story and become this man is truly an honor. #RockTalk @RorymLampley

— Dwayne Johnson (@TheRock) December 31, 2013