Watch Spider-Man Swing Into Times Square For The New Year's Eve Ball Drop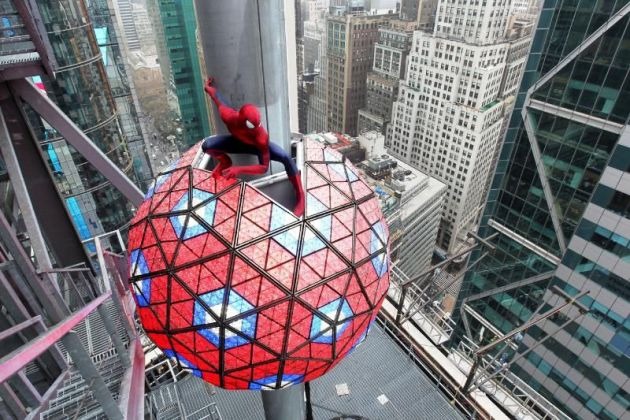 New York City is home to lots of costumed heroes, from Brooklyn boy Steve Rogers to Hell's Kitchen fighter Matt Murdock to "Gotham City" (we all know what that's a stand-in for) crusader Bruce Wayne. But there can only be one "Official Super Hero of Times Square 2014," and this year, it's our friendly neighborhood Spider-Man.
As viewers the nation over tune in to watch the New Year's Eve ball drop, Spidey will be dropping in to celebrate with the crowd — and premiere some new footage from The Amazing Spider-Man 2. In preparation, Spider-Man recently swung up to the top of the iconic sphere itself. Naturally, Marvel Entertainment was on hand to capture video of his visit into a nice, tidy promo. Check it out after the jump.
Those tuning in specifically to see Spider-Man will want to keep their eyes peeled at a couple of specific times throughout the evening. Here are the Spidey-centric portions of the night's schedule, as officially announced by Times Square:
9:57 p.m. to 10:00 p.m.
Hourly Countdown with Spider-Man
As we approach the New Year, Spider-Man joined by Marc Webb, the Director of The Amazing Spider-Man 2™ movie will appear at the Nivea Countdown Stage to wish the Times Square revelers "Happy New Year"; and lead the ten second countdown to the 10 o'clock hour accompanied by colorful pyrotechnic effects atop One Times Square. Marc will also read some of the Confetti Wishes to be mixed into the confetti release at midnight and share his wish for the New Year. After the countdown, a Happy New Year video message from Emma Stone will be featured.
10:50 p.m. to 10:53 p.m.
Exclusive Times Square Clip From The Amazing Spider-Man 2™ movie
For more on Spider-Man's impending Times Square swing-by, make sure to check out the Good Morning America interview with director Marc Webb that we linked to in yesterday's Superhero Bits.
The Amazing Spider-Man opens May 2, 2014.