'The Raid 2' Indonesian Trailer: Violence Explodes Across Jakarta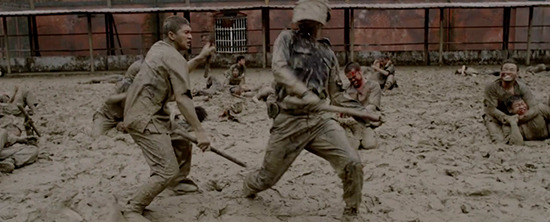 The Raid was a simple, no-holds-barred action film that pitted a cop squad against a whole building full of bad guys. The sequel, The Raid 2: Berandal, features the main character from the original film as he is drawn into a city-wide conflict between the cops and two crime families. He has to go to prison to get connected undercover, but is soon involved in even more crazy violence throughout all of Jakarta.
The film premieres soon at Sundance, and we've got a baroque new trailer with almost all-new footage. There's a lot of talk at the outset here, but don't worry: when things get moving, the action hits hard, bloody, and even muddy. This is a hell of a trailer; you're going to love the baseball bat sequence. Watch below.
(And don't worry about seeing too much; Evans says all the story stuff given up here is first act material.)
While trying to upload the trailer tonight, Evans experienced some tech delays, which turned out to be good for fans, as the director indulged in a brief Q&A to fill the time. There was some talk about the particulars of the trailer, but a few other details came out.
While Evans isn't planning to do more with the 'Safe Haven' storyline from V/H/S/2 ("Loved every min of making Safe Haven but I'm done with POV – very restrictive format.") he did say he has a horror concept he'd "like to make at some point." There are two other scripts currently in development, called Breaking the Bank and Blister.
Then there's also The Raid 3, which Evans says stars two hours before The Raid 2 ends. (This first sequel picks up two hours after the end of the first.) You can read more via Evans' Twitter feed.
The Raid 2 premieres in January at Sundance, and will be released in the US on March 28.
Written and directed by Gareth Evans, THE RAID 2 picks up right where the first film left off and follows Rama (Iko Uwais) as he goes undercover and infiltrates the ranks of a ruthless Jakarta crime syndicate in order to protect his family and uncover the corruption in his own police force. His mission is to get close to a new mob boss, Bangun, by befriending his incarcerated son, Uco. Rama must hunt for information linking Bangun with corruption in the Jakarta Police Department while pursuing a dangerous and personal vendetta that threatens to consume him and bring his mission–and the organized crime syndicate–down around him.Matt Flannery (THE RAID: REDEMPTION) and Dimas Imam Subhono served as cinematographers with Joseph Trapanese (THE BOURNE LEGACY), Aria Prayogi (THE RAID: REDEMPTION) and Fajar Yuskemal (THE RAID: REDEMPTION) scoring the picture.
.