Star Wars Bits: Watch The 1978 Holiday Special, Plus Han Solo's Expensive Blaster, And Tim Curry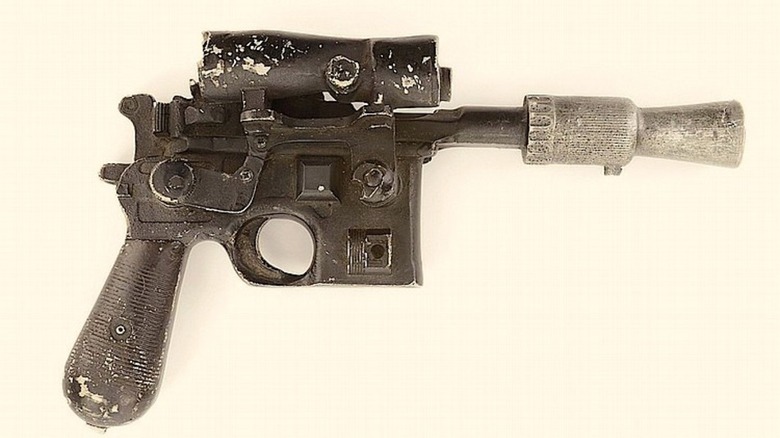 One of Han Solo's original blasters just sold at auction for $200,000. At that price, it's a wonder the Rebellion can afford to compete with the Empire. No wonder all their gear was second-hand. More info on that after the break, along with:
Tim Curry is rumored to be back as a voice on Star Wars Rebels,
If you're already ready for next Christmas, Spike has a chorus line of Xmas stormtroopers,
But no holiday-themed Star Wars footage can compare to the awful grandeur of the original Star Wars Holiday Special, which you can watch below, if you dare.
Profiles in History, via Mashable, provides more details:
Based on the German issue Mauser C96 pistol, this piece, measuring 11 in. long, was custom made for the film from resin by casting the original hero prop from the first Star Wars: A New Hope, it therefore exhibits the same serial number as the hero prop, which is thought to no longer exist. The blaster is exactly in its original filming condition and therefore exhibits wear from use, but retains all of the original details, including the flash suppressor and scope (the eye-piece of which is detailed with reflective scotch-lite tape). The added distinction of this particular piece is that it was also likely used by Mark Hamill as Luke Skywalker, as both characters shared the same style of weapon in Empire.
Tim Curry voiced Palpatine and Darth Sidious in some of the fifth season of The Clone Wars, after original voice actor Ian Abercrombie passed away in 2012. Now there's a rumor that Curry will continue to voice the character(s) in Star Wars Rebels. That's unconfirmed by any official Star Wars source at this point, but it doesn't seem far-fetched. [Screencrush via Jedi News]
The only real reason to post this video from Spike, of stormtroopers "singing" a Christmas tune, is to emphasize the fact that there's still nothing quite as terrible as the official holiday special from 1978.
Yeah, that was bad, but now here's the original Star Wars Holiday Special, which has never been officially released since its original 1978 broadcast. It probably never will be released, either. Despite being the first look at the Wookie home planet and offering the debut of Boba Fett (in animated form) this misbegotten thing has been rightly derided as a terrible idea. If you've never seen it, you can see what all the fuss is about. If you have seen the special, I have no idea why you'd want to watch it again.