'Kung Fury' Trailer: Kung Fu, Robots, Nazis, Dinosaurs, Vikings, Mutants And Gods In One Movie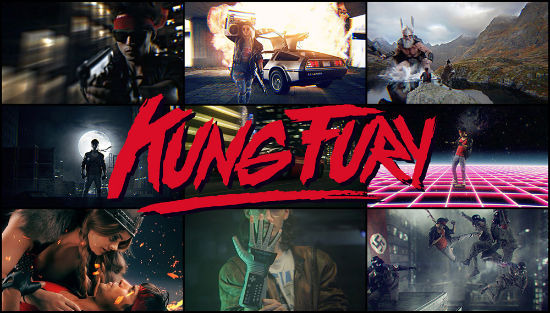 Think of your favorite crazy, low-budget off the wall genre movie. Imagine that as "normal," and maybe you can understand the madness that is Kung Fury.
Directed by David Sandberg, it's the story of a renegade kung-fu cop who travels back in time to kill Adolf Hitler. I know what you're thinking: "Been there done that." But not like in Kung Fury. Shot in a style similar to what Robert Rodriguez did with Sin City, the film takes that wacky premise and adds dinosaurs, vikings, gods, robots, and video games, rolls them up, and uses them to beat logic to death. It's kind of the ultimate Fantastic Fest movie and now you can check out the first trailer.
Would you like to see more? Get in line. It sounds like Sandberg – who quit his job and invested everything to make this film – has run out of funds. Which is where Kickstarter comes in. They're currently looking for supporters to help complete this insane looking movie. You can learn more about it here.
Here's also an excerpt from the press release explaining the making of the film and more:
Even tough the film takes place in 1980s Miami, the whole film has been shot in Sweden and Norway. David Sandberg started this project over a year ago. Driven by a strong will, love for the 80s and action movies to create a unique movie. He took $5000 of his own money that he put it into the project and started shooting whenever he and his friends had time. This has taken him to a finished trailer and enough material to create a 30 minute long film that he hopes to expand into a full feature film.
Kung Fury takes place in a variety of exotic locations; 1980s Miami, Asgard and Germany in the 1940s, to name a few. With a limited budget to work with and the fact that most of the film was shot in Umeå, Sweden, most of the scenes were shot against a greenscreen backdrop. Which meant that all the environments had to be recreated digitally. The advantage of shooting on greenscreen is that it doesn't require expensive sets or locations to shoot, it is very simple and only requires a small crew, which helped a lot in keeping the costs down. However, once you're done shooting a movie like this, there's a massive postproduction phase that requires a lot of time and effort by talented visual effects artists.
At the start of this project, David did all of the visual effects himself. As the project has grown he's been getting some help from friends at times and also an intern who's been working closely with David for the past 3 months.This film was shot entirely on the Canon 5d, with the exception of the slow-mo scenes which were shot with the Sony FS700.
David has now teamed up with Academy Award nominated producer Mathias Fjellström who share Davids' love for the 80s'. A kickstarter campaign was recently launched for the movie. If successful, the 30 minute film will be released for free online in 6 months.
Also, Sandberg provided us with a bunch of behind the scenes photos from the film. Check them out below.