Sequel Bits: 'G.I. Joe 3,' 'Bill And Ted 3,' 'Transformers 4,' 'Point Break,' 'Dawn Of The Planet Of The Apes'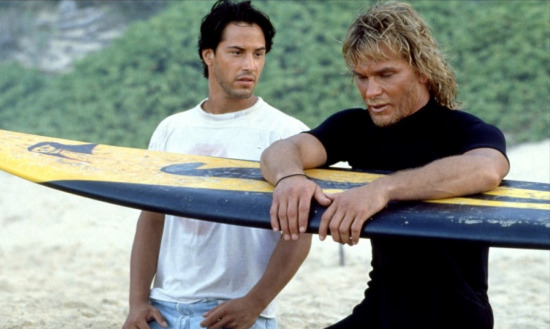 Keanu Reeves is the star of this edition of Sequel Bits, talking about the latest in regards to Bill and Ted 3 and dismissing another film he was never involved in in the first place. Below, read about the following:
Jon M. Chu hopes G.I. Joe 3 will shoot in 2014 and says Channing Tatum's return isn't likely.
Keanu Reeves says they're looking for funding for Bill and Ted 3.
Reeves also said he won't appear in a Point Break remake.
Check out three new character shots from Dawn of the Planet of the Apes.
Mark Wahlberg gives some details on his character in Transformers: Age of Extinction.
Jon M. Chu, whose latest film Believe is now in theaters, spoke to Coming Soon about progress regarding a third G.I. Joe film. His response sounds pretty encouraging:
I love being active in world-building, so we're working on "G.I. Joe 3" right now. We're designing tons of stuff, which takes a little bit, but to me, that's obviously where I like to push myself and where I want to be for a long time and get to know better...I'm excited to bring in new characters and fun things beyond Bruce and Dwayne that we're working on and some great villains, but we're forming those ideas now. I'm really excited – it's going to be a whole 'nother level.
Later he was asked about Channing Tatum (while he admits there's a small possibility they could work the character back in, he doesn't think it'll happen) and the talked about a timeline:
I think we're going to be shooting next year. We're pretty motivated to get that up.
Next up, Keanu Reeves was on The Today Show to promote 47 Ronin and was, of course, asked about Bill & Ted 3. Here's the full video, with the pertinent quotes below.
Visit NBCNews.com for breaking news, world news, and news about the economy
Here are the quotes if you don't feel like 5 minutes of Keanu:
I'm open to the idea of that. I think it's pretty surreal, playing 'Bill & Ted' at 50. But we have a good story in that. You can see the life and joy in those characters, and I think the world can always use some life and joy.
And this
Yeah, there's a story; there's a script. We're trying to get the dough together to make this crazy story. I can talk about it, but I shouldn't talk about it.
More with Keanu Reeves. He was asked about – and shot down – any notion that he'd appear in a remake of Point Break, which has been in development for some time. Thanks to the BBC for the quote:
Absolutely not. It's not my place....If they can find a way to do it that works out good, then God bless them.
The Dawn of Planet of the Apes website (via Comic Book Movie) posted these three looks at the human stars of the film: Jason Clarke, Keri Russell and Gary Oldman.
Finally, talking to the Daily Beast (via Transformers Live), Mark Wahlberg gave a bit of background on his Transformers: Age of Extinction character:
I think the emotional core of it, the human element, is going to be extremely powerful. It's an ordinary man trying to do extraordinary things to save his daughter and keep her alive—and this boyfriend he didn't know anything about. He'd had a child when he was in high school and his wife passed away, and the promise he'd made to her was that she wouldn't date any boys until she graduated and that she'd be at the graduation—because we weren't due to the pregnancy. So there's an anchor to it and a realness to it that I like a lot.