'Sabotage' Trailer: Arnold Schwarzenegger Versus The Cartel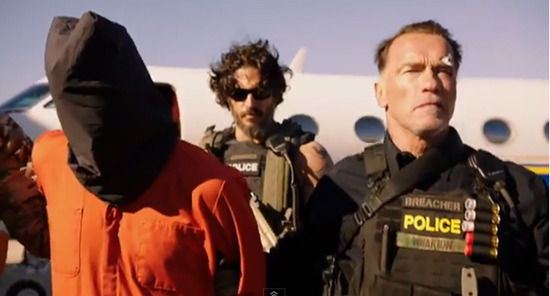 David Ayer (Training Day writer, End of Watch director) has a great-looking WWII tank movie coming next year, called Fury. But first, he'll open the year with a movie featuring the DEA, drug cartels, deals gone bad, and sneaky dealings that leave people dead left and right.
In Sabotage, Arnold Schwarzenegger stars as the leader of a DEA unit that robs a cartel and ends up in all sorts of trouble because of it. Check out a trailer below.
Sabotage also stars Joe Manganiello, Sam Worthington, Terrence Howard, Olivia Williams, Max Martini, Josh Holloway, and Mireille Enos. It opens on April 11, 2014.
In "Sabotage", Arnold Schwarzenegger leads an elite DEA task force that takes on the world's deadliest drug cartels. When the team successfully executes a high-stakes raid on a cartel safe house, they think their work is done – until, one-by-one, the team members mysteriously start to be eliminated. As the body count rises, everyone is a suspect.