Alex Murphy Is A Lover And A Fighter In New 'Robocop' Images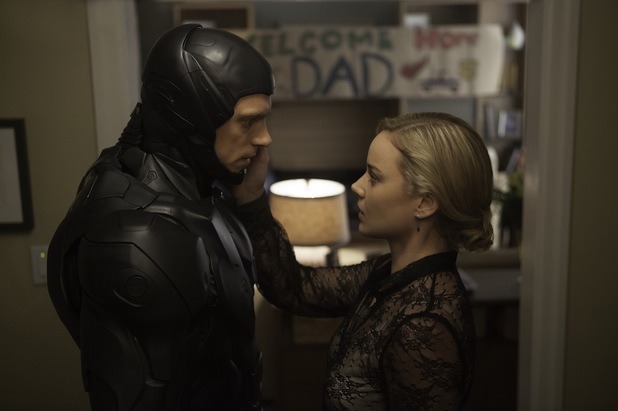 As remakes go, Jose Padilha's Robocop seems to be one of the more interesting ones. Not only does it promise a whole new spin on the core concept — by focusing far more closely on the toll that Robocopping takes on Alex Murphy for example — it's assembled a great cast to help sell that story. Joel Kinnaman is the shining star, but he's backed by the likes of Gary Oldman, Michael Keaton, Jackie Earle Haley, Samuel L. Jackson, and Abbie Cornish.
The latest batch of photos highlight some of those talented supporting players, while also showing off how damn cool Kinnaman looks at Robocop. Check 'em out after the jump.
[Digital Spy via Coming Soon]
My favorite of the photos is the one in the header. The cheery "Welcome Home Dad" banner in the background just kills me. Although maybe it shouldn't — I bet a lot of kids would be thrilled to have a half-robot, half-man, all-superhero father. He'd be the coolest dad at the playground, for sure.
Robocop opens February 12, 2014.
In RoboCop, the year is 2028 and multinational conglomerate OmniCorp is at the center of robot technology. Overseas, their drones have been used by the military for years – and it's meant billions for OmniCorp's bottom line. Now OmniCorp wants to bring their controversial technology to the home front, and they see a golden opportunity to do it. When Alex Murphy (Joel Kinnaman) – a loving husband, father and good cop doing his best to stem the tide of crime and corruption in Detroit – is critically injured in the line of duty, OmniCorp sees their chance for a part-man, part-robot police officer. OmniCorp envisions a RoboCop in every city and even more billions for their shareholders, but they never counted on one thing: there is still a man inside the machine pursuing justice.