Sequel Bits: 'Pacific Rim 2', '300: Rise Of An Empire', 'The Expendables', 'Dead Snow 2'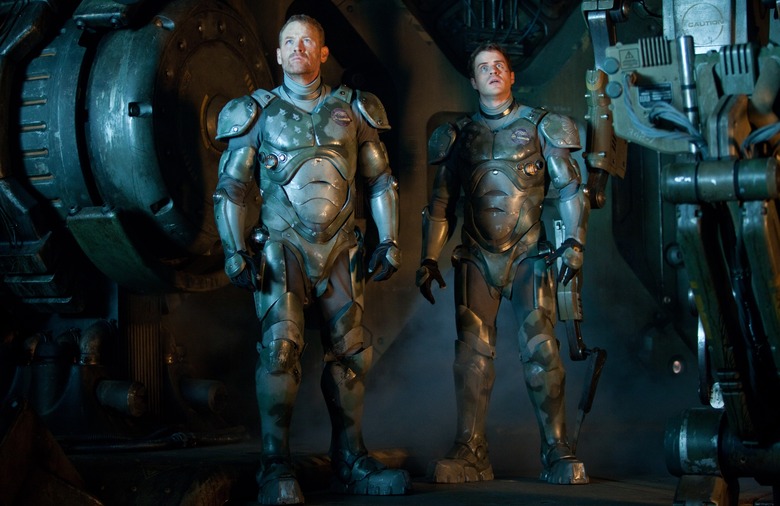 If Herc and Chuck were your favorite Jaeger pilot duo, Pacific Rim star Max Martini might have some good news for you. Also after the jump:
Dermot Mulroney wants another My Best Friend's Wedding
Here's why Steven Seagal isn't in The Expendables 3
Dead Snow 2: Red vs. Dead unveils a new poster
It's Rodrigo Santoro's turn to get a 300 character sheet
Watch a teaser for the live-action Ruroni Kenshin sequels
It's funny, I fell in love with this character. The key component was this relationship I had with my son, exploring the dysfunction and the loss, so where does Herc go from here? I don't know. It'll be interesting to see where Guillermo (del Toro) and Travis Beacham take it. I don't know if it's a prequel or a sequel, but if it's a prequel you'll learn more about Herc's family history. But Guillermo has such a vivid imagination, it could go anywhere.
Martini's comment doesn't confirm anything, but it's interesting to hear that del Toro and Beacham are considering a prequel at all. Which would you prefer? [Empire via Screen Rant]
It seems like every other '90s hit is getting a sequel these days, so why not My Best Friend's Wedding? Dermot Mulroney says he'd be up for it, and that he's not the only one. "I think everybody wants it," Mulroney said. "I want it! Julia [Roberts] and I talked about it recently, and she thought it would be an amazing idea."
The actor, who recently reunited with Roberts on August: Osage County, suggested that a sequel could follow Julianne (Roberts) as she attempts to steal Michael (Mulroney) from his wife Kimmy (Cameron Diaz). "Wouldn't that be a fun thing to see?" Mulroney asked. "Whatever it is, as far as I'm concerned, it's been in development for 16 years."
Interestingly, this isn't the first we've heard about a theoretical My Best Friend's Wedding 2. In 2001, producer Jerry Zucker stated that a potential follow-up titled My Best Friend's Divorce had been considered but ultimately rejected. [Variety]
The Expendables franchise has managed to round up nearly every major action star of the '80s and '90s, and yet Steven Seagal has remained conspicuously absent from the lineup. In a new interview, the actor explained why.
According to Seagal, it came down to some "unpleasant politics" with "certain folks, not the actors" — which may or may not be a reference to his allegedly rocky relationship with Expendables producer Avi Lerner.
Still, that doesn't mean he's out forever. "Hopefully we've gone beyond that [the previous roadblocks]," he said. "[Sylvester Stallone] just called me the other day and said that they were still [interested]. And I said, 'Hey buddy, you're my friend, let me know.' He said he was going to send me a script." [IGN]
Among the many titles set to premiere at Sundance next month is Dead Snow 2: Red vs Dead, Tommy Wirkola's sequel to his 2009 Nazi zombie horror-comedy. The festival describes the film as follows:
If the worst day of your life consisted of accidentally killing your girlfriend with an axe, chain-sawing your own arm off, and watching in horror as your closest friends were devoured by a zombified Nazi battalion, you'd have to assume that things couldn't get much worse. In Martin's case, that was only the beginning.
Picking up immediately where the original left off, Dead Snow; Red vs. Dead wastes no time getting right to the gore-filled action, leaving a bloody trail of intestines in its wake. Director Tommy Wirkola returns to the helm with a vengeance, coming up with more inventive ways to maim and dismember than you ever thought possible. Combining wry humor with horrific worst-case scenarios, this follow-up to the 2009 Midnight classic is sure to shock the weak-of-heart and delight even the most hard-core fans of the horror genre. Colonel Herzog is back, and he is not to be fucked with.
But as they say, a picture is worth a thousand words. So the marketing team has helpfully released a new poster for you to feast your eyes on, as well.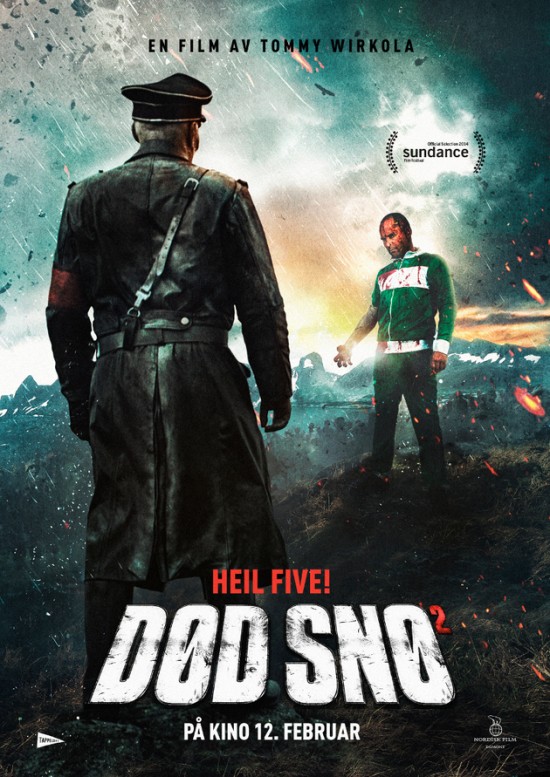 Uf. Poor Martin. [Twitch]
Following character poster reveals for Lena Headey's Queen Gorgo, Jack O'Connell's Calisto, Eva Green's Artemisia, and Sullivan Stapleton's Themistocles, Warner Bros. has unveiled a new poster focused on Rodrigo Santoro's Xerxes, the god-king.
What it tells us is that the 300: Rise of an Empire character is a big fan of fancy jewelry and heavy eyeliner, and an even bigger hater of Athens. He also has surprisingly nice teeth for someone who did not have access to modern dentistry, but maybe that just comes with the "god-king" territory.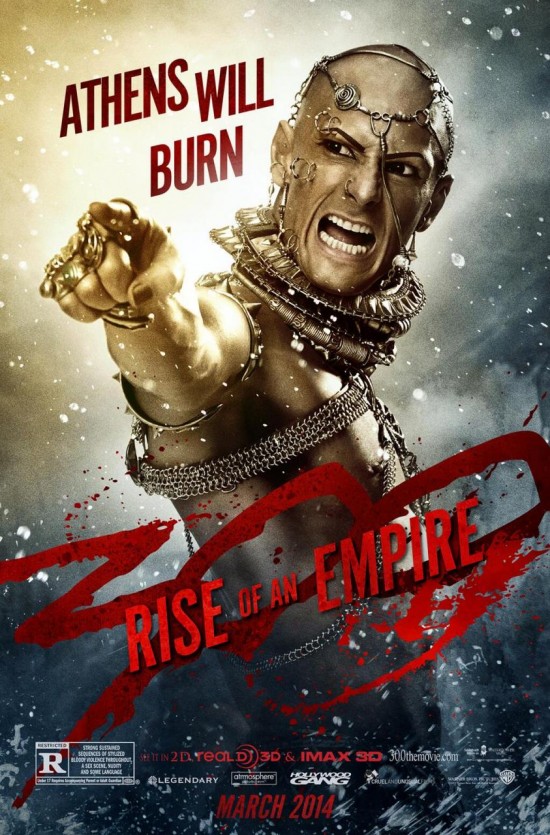 300: Rise of an Empire opens March 7, 2014. [Coming Soon]
The live-action adaptation of Rurouni Kenshin was so popular, it got not one but two sequels into production this year. Now the first teaser has arrived to show us just what those movies will look like.
The sequels, titled Rurouni Kenshin: The Great Kyoto Fire and Rurouni Kenshin: The End of a Legend, will follow the original manga's much-loved Kyoto arc. Satô Takeru reprises his role as Kenshin. Both movies will hit Japan in summer 2014. [Twitch]