Sequel Bits: 'Jurassic World', 'Fast & Furious 7', 'Kill Bill 3', 'ExpendaBelles', 'Zoolander 2'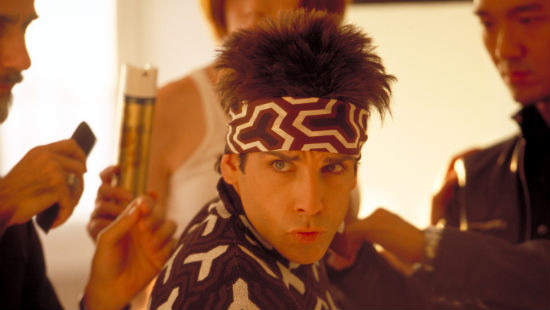 If you consider sequel news to be a gift, we've got a whole sleigh full of presents for you. After the jump:
No (duh), Justin Bieber won't replace Paul Walker in Fast & Furious 7
Zoe Bell could become one of the ExpendaBelles
Ricky Gervais will be back for Night at the Museum 3
Phil "You Had One Job" Tippett is returning for Jurassic World
Hot Tub Time Machine 2 is coming sometime in 2014
Quentin Tarantino is really not interested in doing Kill Bill 3
Zoolander 2 is "on hold," and Dodgeball 2 has a script
Someone has been arrested for that Transformers extortion attempt
Sullivan Stapleton and Eva Green gets their own 300 posters
The rumor started when Carbuzz.com alleged last week that the Canadian pop singer was being eyed to replace Walker — with Ludacris' full support, no less. However, they've now squashed their own rumor after a categorical denial from Universal. Whew. [Carbuzz.com via Film Drunk]
In happier news, stunt woman turned leading lady Zoe Bell is up for a part in The ExpendaBelles, which as the title suggests is a distaff spinoff of the Expendables franchise. "I've been in and I've met," she said. "Yes, I've had meetings with people but they haven't got a director attached yet so that's the next thing. I would obviously love to be involved in it."
Bell stresses that she has not yet received an official offer, but she seems like a natural fit for the project — as do Cameron Diaz and Milla Jovovich, who are also reported to be in talks. Meryl Streep, not so much. [Crave Online]
Ricky Gervais will put in another Night at the Museum. The Brit actor will reprise his role from the two previous films as Dr. McPhee, boss of Larry (Ben Stiller).Robin Williams is also set to return, while Skyler Gisondo and Dan Stevens are among the new members of the cast. Shawn Levy directs. Night at the Museum 3 is scheduled for Christmas Day, 2014. [Deadline]
The Internet loves to yell at Phil Tippett for failing to do his "one job," but in truth, he was so good at his actual job that he's being asked to do it again. Director Colin Trevorrow has confirmed via Twitter that the "dinosaur supervisor" will be back for Jurassic World, which picks up 22 years after the first film.
Welcome back, Phil. pic.twitter.com/pnGcKAlfN5

— Colin Trevorrow (@colintrevorrow) December 18, 2013


Jurassic World opens June 12, 2015. Bryce Dallas Howard, Nick Robinson, and Ty Simpkins are set to star, while Chris Pratt and Irrfan Khan are circling. [via Uproxx]
Paramount and MGM have revealed some new details about the plot of Hot Tub Time Machine 2. From the official press release:
When Lou (Rob Corddry) finds himself in trouble, Nick (Craig Robinson) and Jacob (Clark Duke) fire up the hot tub time machine in an attempt to get back to the past. But they inadvertently land in the future. Now they have to alter the future in order to save the past... which is really the present.
Adam Scott also stars, to replace the absent John Cusack. It's not clear when in the future the gang will land, but the film itself should be out in 2014. [EW]
Don't hold your breath for a Kill Bill 3. Although Quentin Tarantino has talked up the possibility in the past, he admitted last year that the film would "probably not" happen, and he now seems thoroughly uninterested in revisiting the tale.
"I don't think about Kill Bill 3 that much, as... we already visited them," he said. Instead, he wants to try something new — "like a horror movie, perhaps." [Independent.ie via Collider]
Twelve years on, Ben Stiller still hopes to make Zoolander 2. But it probably won't be anytime soon.
Right now, it's on hold. There's a script we like, but I don't want to force it, because people who love that movie really love it, so I want to make sure we do the sequel the right way. Mike Myers did it well with the Austin Powers movies – they were all funny, and very 'of their time'. And Zoolander is 'of its time', too, so it's about how we could bring it up to date, to the present day.
Part of what'll make Zoolander 2 "of its time" will be the new plotline. Stiller says the famously dim fashion model will have a "new look" to replace Blue Steel — which is a good thing since he's trying to catch up with the rest of the world.
I think part of the sequel will be about how the fashion world moves so quickly. So, the movie will begin at a time when the whole world has moved on from Derek and Hansel because they're so ancient history. It's about them having to reinvent themselves and try to become relevant again.
Meanwhile, Dodgeball 2 is still very much in the works. Clay Tarver was hired to write the script back in April and it sounds like he's turned something in. "There is a script," confirmed Stiller. "I haven't read it, but I know it exists. I had so much fun on that first movie, so I could see myself doing [a sequel] at some point." [Shortlist via SplitSider]
Although Michael Bay has declared that he had a "fantastic time" shooting Transformers: Age of Extinction in China, not every day was smooth sailing. You may recall that in October, the crew were the victims of two separate extortion attempts, one of which involved an air-conditioner attack.
The AC incident led to two arrests, and now a 30-year-old man has been arrested in connection to the other case. Police are currently looking for two other men associated with the event as part of an ongoing investigation. Transformers: Age of Extinction opens June 27. [South China Morning Post via THR]
Not to be outdone by Queen Gorgo and Calisto, Artemisia and Themistocles have unveiled their own 300: Rise of an Empire character posters as well. Artemisia (Eva Green) looks ready to go head-to-head with Katniss Everdeen and Bard the Bowman in an archery contest, while Themistocles (Sullivan Stapleton) tries to catch flies with his mouth.
300: Rise of an Empire premieres March 7, 2014. [Coming Soon]