'How To Train Your Dragon 2' Trailer: Hiccup And Toothless, Together Again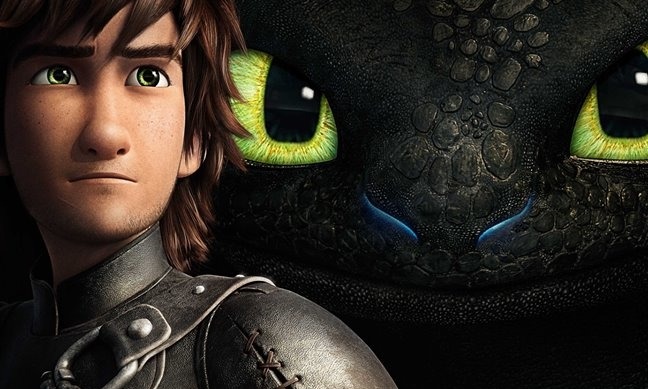 By the time How to Train Your Dragon 2 comes out, over four years will have passed since the first How to Train Your Dragon hit theaters. And rather than sit idly on the shelf waiting for DreamWorks Animation to bring them back, Hiccup (Jay Baruchel), Toothless, and the rest of their companions have spent the interim growing up.
Since Hiccup revealed the truth about dragons, the flying fire-breathers have been welcomed by the people of Berk, and Hiccup and Toothless's bond with each other has only deepened. Oh, and Hiccup has "Neville Longbottom-ed" us all by growing from a hopelessly gawky boy into a handsome man. All in all, life looks pretty good.
But the sequel has to have a story, and a story has to have a conflict. So some kind of trouble is brewing for the pair, as you can see in the trailer after the jump.
We should warn you that one big, surprising bit of info involving Cate Blanchett's character is revealed in the trailer. We've heard that it's a pretty major spoiler for one of the film's central mysteries, and that DreamWorks Animation was adamantly against Fox putting it in the trailer. If you're eager to see Hiccup and Toothless in action but want to avoid getting spoiled, stop watching around the one-minute mark and pick up again at 1:48.
How to Train Your Dragon 2 flies into theaters on June 13, 2014. Gerard Butler, Jonah Hill, Kit Harington, America Ferrera, and Djimon Hounsou also star.
The thrilling second chapter of the epic HOW TO TRAIN YOUR DRAGON trilogy brings us back to the fantastical world of Hiccup and Toothless five years after the two have successfully united dragons and vikings on the island of Berk. While Astrid, Snoutlout and the rest of the gang are challenging each other to dragon races (the island's new favorite contact sport), the now inseparable pair journey through the skies, charting unmapped territories and exploring new worlds. When one of their adventures leads to the discovery of a secret ice cave that is home to hundreds of new wild dragons and the mysterious Dragon Rider, the two friends find themselves at the center of a battle to protect the peace. Now, Hiccup and Toothless must unite to stand up for what they believe while recognizing that only together do they have the power to change the future of both men and dragons.