N.W.A. Biopic 'Straight Outta Compton' Gets New Writer, Studio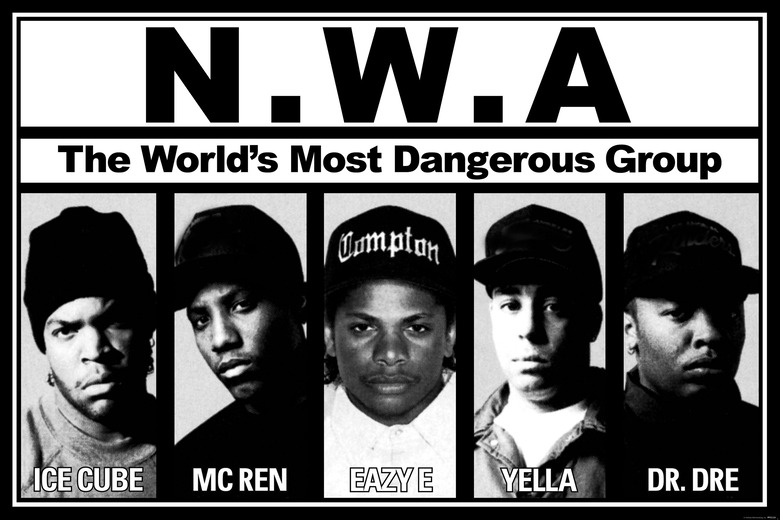 It's been a while since we got an update on Straight Outta Compton, the biopic of the iconic rap group N.W.A. But not only is the project still alive, it's taking a significant step forward.
Jonathan Herman has just been hired to write the project, which still has F. Gary Gray attached to helm. Additionally, the movie has a new studio — Universal is taking over now that New Line's pulled out. Get the latest dirt on the movie after the jump.Eazy-E, Dr. Dre, Ice Cube, DJ Yella, and Arabian Prince got together in Compton around 1986 or 1987, with MC Ren joining in 1988. N.W.A.'s first studio album, Straight Outta Compton, was released in 1988. They only released one other album, 1991's Niggaz4Life, before breaking up. Nevertheless, they made their mark and are still considered one of the most influential rap groups in history.
Herman's script is expected to follow the group's rise to fame. Alan Wenkus and Leigh Savidge wrote the original script, and sold it to New Line in 2008 with the music rights attached. Andrea Berloff penned a later draft. Ice Cube and Dr. Dre are on board to produce the film, along with Eazy-E's widow Tomica Woods. (The rapper died of AIDS-related complications in 1995.) Will Packer will executive produce.
Herman has become a favorite of Universal's. He was most recently tapped by the studio to rewrite Demonologists, a psychological thriller for Robert Zemeckis' ImageMovers. Prior to that, he penned an untitled hacker movie for the studio and Mark Wahlberg, and contributed a draft to Universal's remake of Alfred Hitchcock's The Birds.
Gray has some history with Ice Cube, having directed him in 1995's Friday. His other works include Law Abiding Citizen and The Italian Job.