David Dobkin Directing Hugh Hefner Biopic For Warner Bros.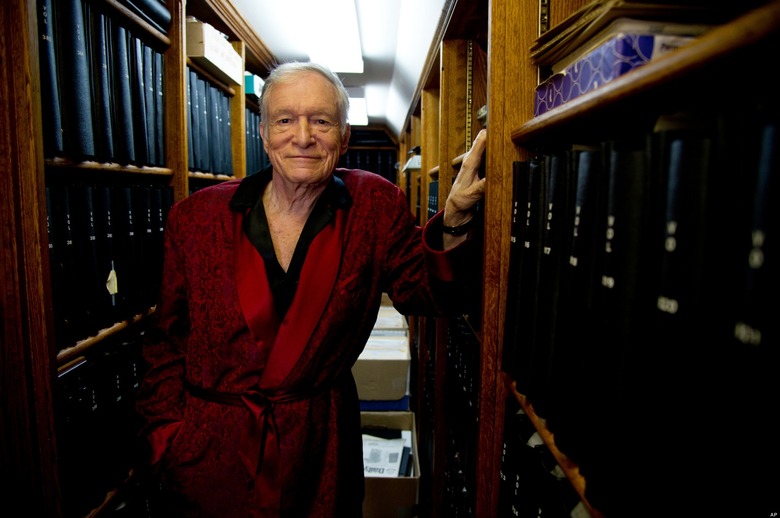 Playboy founder Hugh Hefner has cropped up in quite a few movies and shows over the decades. Sometimes, he's played by himself, as in Entourage, Curb Your Enthusiasm, and The House Bunny; other times, actors are called upon to play younger versions of him, as in The Playboy Club and Lovelace.
But those have all been supporting roles or cameos. Now, he's finally getting a biopic all to himself. David Dobkin is reportedly in talks with Warner Bros. to direct, from a script by Peter Morgan (Rush). Hit the jump for all the details on the project.
With Dobkin now attached, the project is picking up steam. The next step will be to find an actor to slip into Hef's famous robe and slippies. Hugh Jackman and Robert Downey Jr. were courted for the lead back when the movie was set up at Universal, but no names have been mentioned since it shifted to Warner Bros.
While plot specifics have not been revealed, Variety reports that the movie returns Morgan to a "similar era" as his earlier film Frost/Nixon, which took place in 1977. That would place the story well into Hef's Playboy career, as the magazine was founded in 1953.
Dobkin is coming off of the drama The Judge, which opens next year. However, he's best known for his comedy work, including Wedding Crashers and The Change-Up. The Hefner biopic is balanced between the two sides of Dobkin's career, as it's expected to have both dramatic and comic elements.