Twitter Gets 'Social Network'-Style TV Drama; Facebook-Inspired 'Fakebook' In Works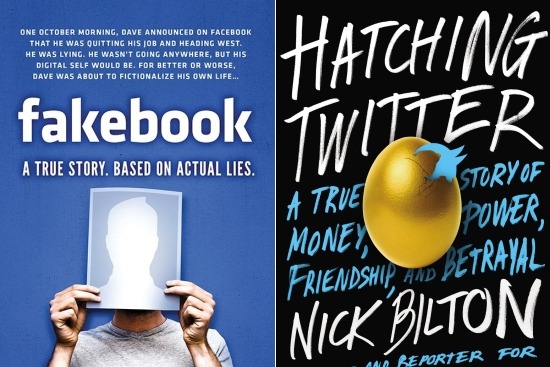 Social media is trending in Hollywood, apparently. Lionsgate TV has just acquired the rights to Nick Bilton's Hatching Twitter: A True Story of Money, Power, Friendship, and Betrayal, about the drama-filled founding of the company. You can think of it as a small-screen, Twitter-based version of The Social Network, though producer Allison Shearmur prefers you don't: "This series will be different," she promised.
Meanwhile, Ineffable Pictures is putting an actual Facebook movie in the works, though this one is about a Facebook user, not its founder. Based on Dave Cicirelli's memoir Fakebook: A True Story Based on Actual Lies, it'll follow a guy who reinvents himself on the network by posting wild, and entirely false, tales of his adventures. More about both projects after the jump.
His followers found Cicirelli's tales entertaining and inspiring, but as the hoax went on, Cicirelli himself began to feel the stresses of his phony life. He grew jealous of his own alter ego and began to feel isolated. According to Ineffable founder Raffi Kryszek, "This is the first book we've seen that honestly and—often hilariously—manages to deal with the increasingly pervasive impact social media has on our everyday relationships." No star or director is attached at the moment.
As for Lionsgate TV's Hatching Twitter, Bilton is set to write the script and produce but no director or actors have been set. The series will go behind the scenes of the popular service, depicting its founding in 2006 by four friends who'd soon be fighting over power and money.
A description like that can't help but bring to mind that other project about a bunch of tech-savvy pals squabbling over the media giant they founded. Shearmur readily acknowledges and then dismisses the comparison. "The Social Network was a perfect film, and this series will be different, providing a longer view of the work life changes, gamesmanship and personal sacrifices made by a group of individuals who are building a company that will change the way that people communicate," she said.