Zack Braff's Kickstarter Film 'Wish I Was Here' Will Premiere At Sundance 2014 [Updated With Images]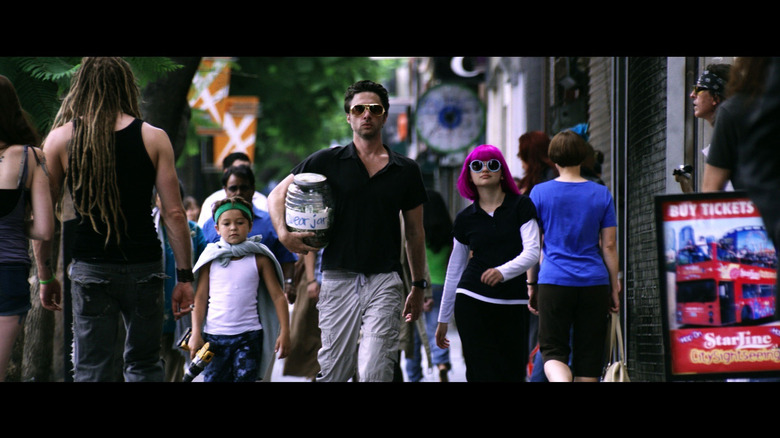 Sundance 2014 just got a something new and something old. The festival, which takes place January 16-26 in Park City, UT just added the world premiere of Wish I Was Here, Zack Braff's comedy, which the writer/director created through KickStarter. It co-stars Kate Hudson, Mandy Patinkin, Josh Gad, Ashley Greene and Joey King.
The festival also confirmed Kevin Smith's reveal from a few weeks back that a 20th anniversary screening of Clerks will be part of the programming. Sundance, of course, is where Clerks first debuted, kicking off Smith's career. Read more details below.
Here's the full press release:
Sundance Institute today announced the addition of two films to the 2014 Sundance Film Festival: Wish I Was Here(Director: Zach Braff) to the Premieres section and Clerks (Director: Kevin Smith) for a special From the Collection midnight screening. The 2014 Festival will be January 16-26 in Park City, Salt Lake City, Ogden and Sundance, Utah.Clerks joins the previously announced From the Collection screening of Hoop Dreams. Both films premiered at the 1994 Festival, which will be the subject of "Class of '94," a Power of Story panel at the Egyptian Theatre on Friday, January 24. Clerks director Kevin Smith will participate.Both Hoop Dreams and Clerks are part of The Sundance Collection at UCLA, a film preservation program established in 1997. The Collection is specifically devoted to the preservation of independent documentaries, narratives and short films supported by Sundance Institute and has grown to nearly 2,300 holdings representing 1,800 titles, including recent additions such as El Mariachi, Winter's Bone, Paris is Burning,Johnny Suede, Working Girls, Crumb, Groove, Better This World, The Oath and Paris, Texas. Titles are generously donated by individual filmmakers, distributors and studios.With the addition of Wish I Was Here, the 2014 Festival will present 119 feature-length films, representing 37 countries and 54 first-time filmmakers, including 34 in competition. These films were selected from 12,218 submissions (72 more than for 2013), including 4,057 feature-length films and 8,161 short films. Of the feature film submissions, 2,014 were from the U.S. and 2,043 were international. 98 feature films at the Festival will be world premieres.PREMIERESWish I Was Here / U.S.A. (Director: Zach Braff, Screenwriters: Zach Braff, Adam Braff) — Aidan Bloom, a 35-year-old struggling actor, father, and husband, is still trying to find purpose in his life. In coming to terms with the death of his father, Aidan and his family unite to discover how to turn the page onto the next chapter. Cast: Zach Braff, Kate Hudson, Mandy Patinkin, Josh Gad, Ashley Greene, Joey King. World PremiereFROM THE COLLECTIONClerks / U.S.A. (Director and screenwriter: Kevin Smith) — One wild day in the life of a pair of overworked counter jockeys whose razor-sharp wit and on-the-job antics give a whole new meaning to customer service! Cast: Brian O'Halloran, Jeff Anderson, Marilyn Ghigliotti, Jason Mewes, Lisa Spoonauer.Clerks premiered at the 1994 Sundance Film Festival. A newly struck print of Clerks, created by Miramax Films to commemorate the film's 20th anniversary, will screen on Friday, January 24 at 11:59 p.m. at the Egyptian Theatre in Park City. Director Kevin Smith is expected to introduce the film and participate in the Q&A.
/Film will be on the ground in Park City and give you surely give you full coverage of both these cool events.
Here are the first images from Wish I Was Here: