'Journey To The West' Trailer: Demon Hunters Collide With Big CG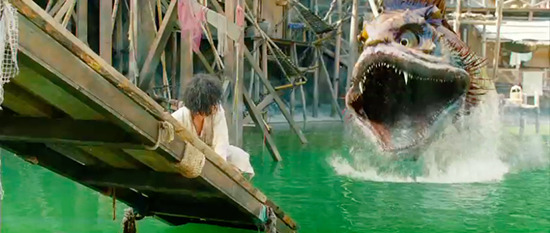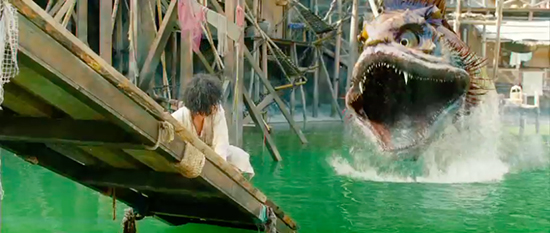 Journey to the West is, kinda, the new film from Shaolin Soccer and Kung Fu Hustle star/director Stephen Chow. He co-wrote, co-directed and produced the film, but doesn't appear in the movie — still, it bears his distinct influence. The movie features a bizarre collection of monsters and demon hunters, who collide in battles that are decorated with weird, outsized CG embellishments.
This trailer shows some of that crazy stuff, like the guy who inflates his leg to the size of a house, the better to kick someone in the face. There are giant beasts and over the top comedy, all inspired (vaguely) by ancient Chinese tales.
As you might be able to tell from the trailer, this is a really hit and miss affair. There's a lot that feels heavily derivative of Chow's earlier films, which doesn't have to be such a big deal. But it veers too far into purely goofy territory for my taste; while some of the movie was pitched right at the proper intersection of fantasy and comedy, a lot of it fizzles out as the comedy flails for laughs. It's a film I was very curious about prior to its Fantastic Fest appearance, and it made such a light impression on me there that frankly I don't even recall it well.
Journey to the West will be on iTunes and in theaters on March 7, 2014. iTunes has the trailer.
This is a world plagued by demons, who cause its human inhabitants unspeakable suffering. Young demon hunter Xuan Zang, fearlessly guided by his belief in "giving himself for the greater cause," risks his all and conquers a water demon, a pig demon and the demon of all demons, Sun Wukong. He embraces them as his disciples, and melts them with love. Meanwhile, Xuan Zang discovers the true meaning of Greater Love himself. In order to atone for their own sins and save the common people, the four of them embark on a journey to the West that's full of challenges...