'22 Jump Street' Green Band Trailer: "We're Like Rihanna And Chris Brown"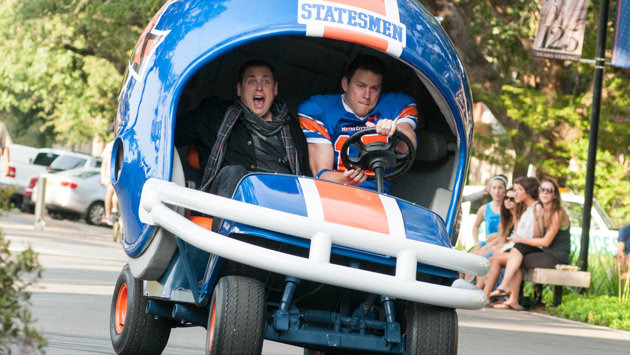 When marketing an R-rated comedy like the upcoming 22 Jump Street, the red-band trailer is a great tool. It quickly and easily gives the audiences what they want: vulgarity, nudity, violence and any number of other inappropriate things the final film will have. For the most part, though, those trailers largely live online.
When you head to the theater this weekend to see Anchorman 2: The Legend Continues, here's the version of the 22 Jump Street trailer you'll see. The green band. It's still incredibly funny, just with less cursing. In the place of that, though, is a bunch of new footage from the sequel, out June 13. Check it out below.
Thanks to Yahoo for the trailer.
I'm pretty surprised this trailer has as many similarities to the Red Band trailer as it does. It definitely pushes the boundaries. But the new footage, including the football stuff, more than makes up for it. This trailer will slay in theaters in front of Anchorman 2.
Directed by Chris Miller and Phil Lord, 22 Jump Street stars Jonah Hill, Channing Tatum, Ice Cube and opens June 13.