HBO Promo Reveals First 'Game Of Thrones' Season 4 Footage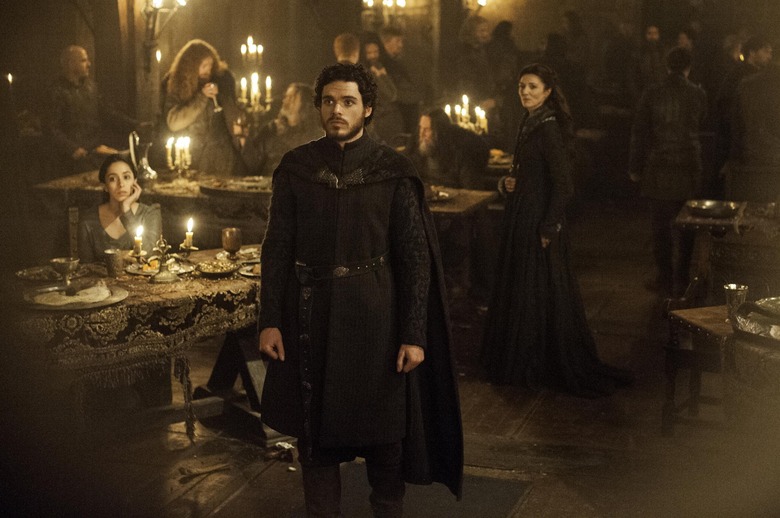 Game of Thrones, a show which has never had a reputation for being kind to its characters, completed what may have been its bloodiest season yet this year. So fans were naturally alarmed to hear that Season 4 would contain more deaths than ever. But the first tiny bit of footage, just released as part of a larger promo for HBO, isn't not so bad. Not a single person gets beheaded or disemboweled or burnt to a crisp by dragon flame.
And if grim medieval fantasy-drama isn't your thing, don't worry: Elsewhere in the HBO ad, we also get peeks at new shows Looking, Silicon Valley, The Leftovers, and True Detective; the Ryan Murphy-directed AIDS drama The Normal Heart, the literary miniseries Olive Kitteridge, and much, much more.
So what have we learned about Season 4 of Game of Thrones from the five or so seconds of footage? Tyrion (Peter Dinklage) gets back into trouble at some point; Joffrey (Jack Gleeson) is, to the chagrin of everyone not surnamed Lannister, still sitting atop the Iron Throne; and Sansa (Sophie Turner) experiences a brief smile, which probably just means she's about to have everything she's ever cared about or loved ripped away from her, all over again. I can't wait.
As for the new shows teased in the ad, the one I'm most curious about is probably Silicon Valley, which was created by Mike Judge and stars the reliably excellent Martin Starr. What about you?