'Welcome To Yesterday' Trailer: 'Chronicle' Meets 'Primer' From Producer Michael Bay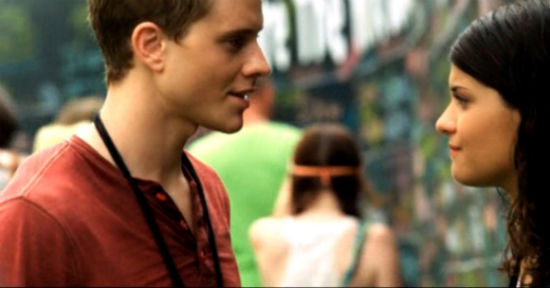 A group of high school kids discover the ability to travel in time. That's the simple logline of Welcome to Yesterday, formerly called Almanac, which just released its first trailer. Starring a slew of young newcomers, the found footage sci-fi film was written by Jason Pagan and Andrew Stark and is directed by Dean Israelite. It's scheduled for release February 28.
Jumping back in time ourselves, on July 1 of this year I was on the Atlanta set of the film. We spoke to all the principal actors, writers, producer and director to find out how Platinum Dunes' first foray into the world of micro-budget genre filmmaking was looking. What we found was a very logical, interesting and angsty take on found footage and time travel. This was definitely not the heavily Back to the Future Part II influenced plot originally rumored.
Watch the trailer below, and read a bit more about our visit to the set.
Here's the trailer for Welcome to Yesterday, via Yahoo.
When we visited the set, we got to see exactly how a group of teenage kids would use time travel. They wouldn't travel back in time to stop a terrible event. No, they'd travel back a day or two to go to a concert they missed and to try and win the girl of one boys' dreams (And buy cars, and get revenge, and pass tests, etc.) You see it above, but things don't go as planned.
We'll have much, much more from the set when we get closer to release but let's just say in a short amount of time, our interests were more than piqued.
Welcome to Yesterday opens February 28. What do you think?