Simon Pegg's 'A Fantastic Fear Of Everything' Gets U.S. Date; Watch The Trailer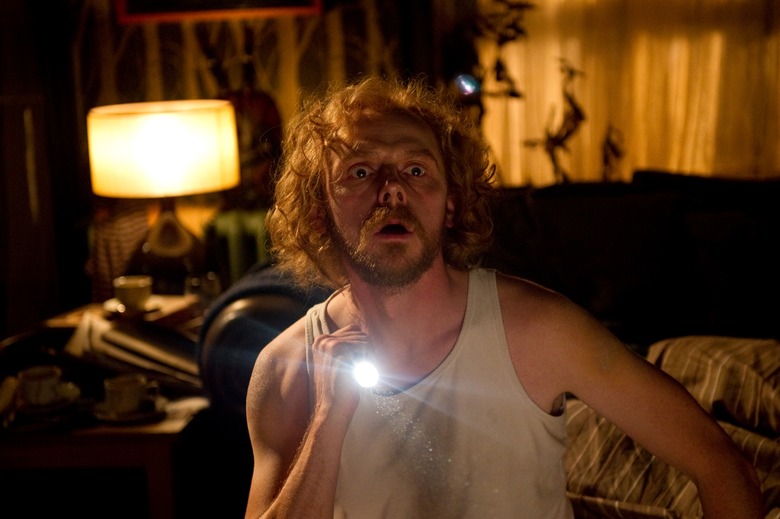 Simon Pegg's come up against some pretty strange things in his onscreen career — zombies, aliens, Tom Cruise — but his characters have typically been able to take those situations in stride. That's not the case in Crisipian Mills' A Fantastic Fear of Everything, a surreal comedy about a murder mystery writer who, as the title suggests, lives in a constant state of terror.
His phobias run the gamut from serial killers to laundromats, and he seems to have a weird thing going with a stop-motion hedgehog. (I'd say it makes more sense once you've seen the trailer, but it doesn't.) The movie opened in the U.K. over the summer, and now U.S. distributor Cinedigm has finally set a release date. Get the details and watch the trailer after the jump.
The trailer looks pretty promising in its insanity, but you may want to temper your expectations. Reviews from across the pond have not been great. While a handful of critics have conceded that "Mills must as least be credited with a vision that feels more or less entirely unique," as Digital Spy put it, most were turned off by the film as a whole.
The Telegraph called it "an alarming new low" for Pegg, the London Evening Standard described it as "the perfect example of how not to make a film," and Variety took issue with its "casual misogyny and pronounced racism." Ouch.
If you're still interested, A Fantastic Fear of Everything hits VOD on January 7, and then theaters on February 7.
Jack (Simon Pegg) is a children's author turned crime novelist whose detailed research into the lives of Victorian serial killers has turned him into a paranoid wreck, persecuted by an irrational fear of being murdered. When Jack is thrown a lifeline by his long-suffering agent, and a mysterious Hollywood executive takes a sudden and inexplicable interest in Jack's script, what should be his "big break" rapidly turns into his "big breakdown" as Jack is forced to confront his worst fears; among them love, laundromats and serial killers.