Don Cheadle To Join 'Avengers: Age Of Ultron' In "Key Role"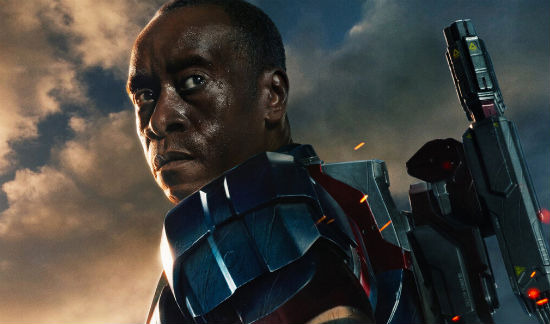 Update: Hitfix has confirmed this news. Read more below.Joss Whedon has apparently decided he can't fool audiences twice. While he neglected to even mention Don Cheadle's War Machine character in The Avengers, the character had a much expanded role in Iron Man 3. That means it's now believed Cheadle's Col. James 'Rhodey' Rhodes, also known as War Machine and Iron Patriot, will play a role in Whedon's 2015 sequel Avengers: Age of Ultron.
Below, read what purpose he could potentially serve, as well as a rumored role in the film for actor Simon McBurney.
Bleeding Cool reported this news, which we have to consider a rumor until it's officially confirmed by Cheadle, Whedon or Marvel. USA Today's interview with Cheadle also mentions he's in the movie though, so it seems likely. (Another rumor is Simon McBurney will join the film as a real-life butler, possibly called Jarvis.)UPDATE: Hitfix confirms, saying "Col. Rhodes, aka War Machine, has a key role in the conflict with Ultron that is the main focus of the sequel."
The question then becomes, what role will Rhodes have in the film? The most obvious one would be as a fighting member of The Avengers as they face off against Ultron (James Spader). However, with two other new characters being introduced (Aaron Taylor-Johnson as Quicksilver and Elizabeth Olsen as Scarlett Witch), not to mention apparently expanded roles for Hawkeye (Jeremy Renner) and Hulk (Mark Ruffalo) that's a whole lot of movie that's being squeezed together.
If indeed he is in the film, which of course makes a lot of sense, I have a feeling we might see the end of the character. He seems like just the right balance of well-known, but unnecessary, hero for Whedon to kill early on, giving The Avengers even more of a reason to deal with Ultron. Plus, without a fourth Iron Man film until at least 2020, what better purpose could he serve in the Marvel Cinematic Universe? Popping up in a Phase 3 Hulk movie or Doctor Strange just doesn't fit. That's obviously pure speculation, but since we know Iron Man survives (Robert Downey Jr. is signed for The Avengers 3) but doesn't have another movie lined up, it's certainly a possibility.
How do you think Rhodes could fit into the film? Will he be War Machine? Iron Patriot? Is it just a cameo? Speculate below.