'Rio 2' Trailer: To Grandfather's House We Go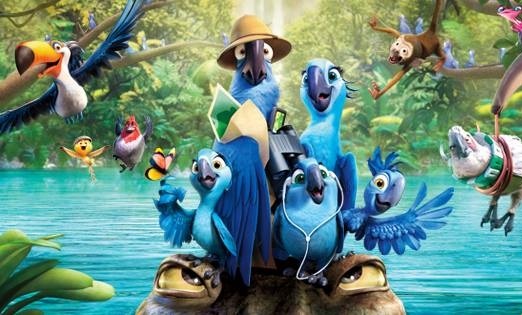 2011's Rio was entirely founded on the premise that Blu (Jesse Eisenberg) and Jewel (Anne Hathaway) were the only blue macaws left in the entire world. The whole reason Blu left his comfy Minnesota home was to meet and mate with Jewel, lest their species die out altogether.
But maybe Tulio (Rodrigo Santoro) isn't such a great ornithologist after all, because in Rio 2 it turns out that there are others of their kind out there in the jungle. A whole flock of 'em, in fact. And unfortunately for Blu, that crowd includes Jewel's dad Eduardo (Andy Garcia) and her handsome ex-boyfriend Roberto (Bruno Mars). Watch the newest full-length trailer after the jump.
The birds of the jungle are cute and all (yes, even you, Nigel), but the most exciting thing about this trailer might be the lovely new Janelle Monáe tune that plays at the start of it. The Grammy-nominated songstress also voices a character in the film. Sergio Mendes, who won a Best Original Song Oscar for the last film's "Real in Rio," returns to produce the soundtrack.
Rio 2 opens April 11, 2014. In addition to Hathaway, Eisenberg, and Santoro, Leslie Mann, George Lopez, Jamie Foxx, will.i.am, Tracy Morgan, and Jemaine Clement return from the first film. Kristin Chenoweth, Janelle Monáe, and Rita Moreno are also among the new voice cast.
The entire cast of the animated smash RIO returns in RIO 2, and they are joined by a new flock of top actors and musical talents. Rich with grandeur, character, color and music, RIO 2 finds Jewel (Anne Hathaway), Blu (Jesse Eisenberg) and their three kids leaving their domesticated life in that magical city for a journey to the Amazon. They encounter a menagerie of characters who are born to be wild, voiced by Oscar nominee Andy Garcia, Oscar/Emmy/Tony-winner Rita Moreno, Grammy winner Bruno Mars, and Tony winner Kristin Chenoweth.