2014 Golden Globe Nominees Include '12 Years A Slave', 'American Hustle'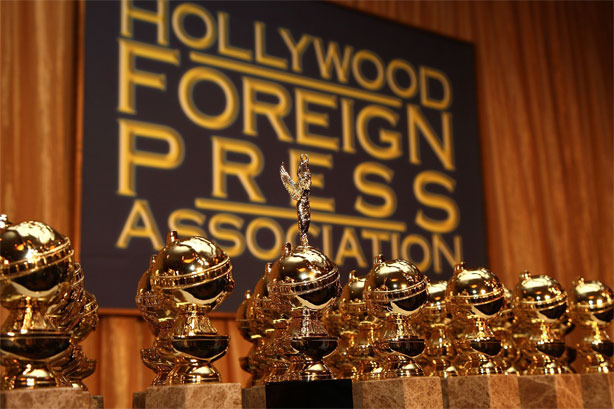 While most of the West Coast was still curled up in bed, Aziz Ansari, Zoe Saldana, and Olivia Wilde got up bright and early this morning to announce the nominees for the 71st annual Golden Globes.
12 Years a Slave and American Hustle led the film nominations, with an impressive seven each. The latter didn't get nearly as much recognition at yesterday's SAG awards announcement, but the former is crystallizing its status as the one to beat this year. Nebraska also came in strong with five nominations, while Captain Phillips and Gravity picked up four apiece.
Meanwhile, House of Cards and Behind the Candelabra topped the list of TV nominees, with four nods each. Breaking Bad, if you were wondering, got three. On the comedy side, Parks and Recreation, Girls, and newcomer Brooklyn Nine-Nine picked up two each.
Read the full list (with announcements still in progress) after the jump.
Among the surprises was the complete shutout of Lee Daniels' The Butler, which got three SAG nominations just yesterday morning. And Pixar, usually a critical darling, failed to secure a nomination for Monsters University. On a brighter note, the Best Actress – Comedy or Musical category is full of deserving performances from smaller films, including Julie Delpy in Before Midnight, Greta Gerwig in Frances Ha, and Julia Louis-Dreyfus in Enough Said.
Her, All Is Lost, and Inside Llewyn Davis also got some love from HFPA today after being overlooked by SAG, while Saving Mr. Banks and The Wolf of Wall Street continue to fare worse than we might've guessed two months ago.
Winners will be announced in a ceremony hosted by Tina Fey and Amy Poehler on January 12, 2014.
Best Motion Picture – Drama12 Years a SlaveCaptain PhillipsGravityPhilomenaRushBest Performance by an Actor in a Motion Picture – Drama
Chiwetel Ejiofor, 12 Years a Slave
Idris Elba, Mandela: Long Walk to Freedom
Tom Hanks, Captain Phillips
Matthew McConaughey, Dallas Buyers Club
Robert Redford, All Is Lost
Best Performance by an Actress in a Motion Picture – Drama
Cate Blanchett, Blue Jasmine
Sandra Bullock, Gravity
Judi Dench, Philomena
Emma Thompson, Saving Mr. Banks
Kate Winslet, Labor Day
Best Motion Picture – Comedy or MusicalAmerican HustleHerInside Llewyn DavisNebraskaThe Wolf of Wall StreetBest Performance by an Actor in a Motion Picture – Comedy or Musical
Christian Bale, American Hustle
Bruce Dern, Nebraska
Leonardo DiCaprio, The Wolf of Wall Street
Oscar Isaac, Inside Llewyn Davis
Joaquin Phoenix, Her
Best Performance by an Actress in a Motion Picture – Comedy or Musical
Amy Adams, American Hustle
Julie Delpy, Before Midnight
Greta Gerwig, Frances Ha
Julia Louis-Dreyfus, Enough Said
Meryl Streep, August: Osage County
Best Performance by an Actor in a Supporting Role in a Motion Picture
Barkhad Abdi, Captain Phillips
Daniel Brühl, Rush
Bradley Cooper, American Hustle
Michael Fassbender, 12 Years a Slave
Jared Leto, Dallas Buyers Club
Best Performance by an Actress in a Supporting Role in a Motion Picture
Sally Hawkins, Blue Jasmine
Jennifer Lawrence, American Hustle
Lupita Nyong'o, 12 Years a Slave
Julia Roberts, August: Osage County
June Squibb, Nebraska
Best Director – Motion Picture
Alfonso Cuarón, Gravity
Paul Greengrass, Captain Phillips
Steve McQueen, 12 Years a Slave
Alexander Payne, Nebraska
David O. Russell, American Hustle
Best Screenplay – Motion Picture
Spike Jonze, Her
Bob Nelson, Nebraska
Jeff Pope and Steve Coogan, Philomena
John Ridley, 12 Years a Slave
Eric Warren Singer and David O. Russell, American Hustle
Best Animated Feature FilmThe CroodsDespicable Me 2FrozenBest Foreign Language FilmBlue Is the Warmest Color, FranceThe Great Beauty, ItalyThe Hunt, DenmarkThe Past, IranThe Wind Rises, JapanBest Original Song – Motion Picture
"Atlas" by Chris Martin, The Hunger Games: Catching Fire
"Let It Go," Frozen
"Ordinary Love" by U2, Mandela: Long Walk to Freedom
"Please Mr. Kennedy" by Ed Rush, T-Bone, Justin Timberlake, Inside Llewyn Davis
"Sweeter than Fiction" by Taylor Swift, One Chance
Best Original Score – Motion PictureAll Is LostMandela: Long Walk to FreedomGravityThe Book Thief12 Years a SlaveBest Television Series – DramaBreaking BadDownton AbbeyThe Good WifeHouse of CardsMasters of SexBest Performance by an Actor in a Television Series – Drama
Bryan Cranston, Breaking Bad
Liev Schreiber, Ray Donovan
Michael Sheen, Masters of Sex
Kevin Spacey, House of Cards
James Spader, The Blacklist
Best Performance by an Actress in a TV Series – Drama
Julianna Margulies, The Good Wife
Tatiana Maslany, Orphan Black
Taylor Schilling, Orange is the New Black
Kerry Washington, Scandal
Robin Wright, House of Cards
Best Television Series – Comedy or MusicalThe Big Bang Theory
Brooklyn Nine-Nine
Girls
Modern Family
Parks and Recreation
Best Performance by an Actor in a Television Series – Comedy or Musical
Jason Bateman, Arrested Development
Don Cheadle, House of Lies
Michael J. Fox, The Michael J. Fox Show
Jim Parsons, The Big Bang Theory
Andy Samberg, Brooklyn Nine-Nine
Best Performance by an Actress in a TV Series – Comedy or Musical
Zooey Deschanel, New Girl
Lena Dunham, Girls
Edie Falco, Nurse Jackie
Julia Louis-Dreyfus, Veep
Amy Poehler, Parks and Recreation
Best Miniseries or Motion Picture Made for TelevisionAmerican Horror Story: CovenBehind the CandelabraDancing on the EdgeTop of the LakeWhite QueenBest Performance by an Actor in a Miniseries or Motion Picture Made for Television
Matt Damon, Behind the Candelabra
Michael Douglas, Behind the Candelabra
Chiwetel Ejiofor, Dancing on the Edge
Idris Elba, Luther
Al Pacino, Phil Spector
Best Performance by an Actress in a Miniseries or Motion Picture Made for Television
Helena Bonham Carter, Burton and Taylor
Rebecca Ferguson, The White Queen
Jessica Lange, American Horror Story: Coven
Helen Mirren, Phil Spector
Elisabeth Moss, Top of the Lake
Best Performance By an Actor in a Supporting Role in a Series, Miniseries, or Motion Picture Made for Television
Josh Charles, The Good Wife
Rob Lowe, Behind the Candelabra
Aaron Paul, Breaking Bad
Corey Stoll, House of Cards
Jon Voight, Ray Donovan
Best Performance by an Actress in a Supporting Actress in a Series, Miniseries, or Motion Picture Made for Television
Jacqueline Bisset, Dancing on the Edge
Janet McTeer, The White Queen
Hayden Panettiere, Nashville
Monica Potter, Parenthood
Sofia Vergara, Modern Family