Edgar Wright Discusses The "Challenges" Of Making A PG-13 'Ant-Man'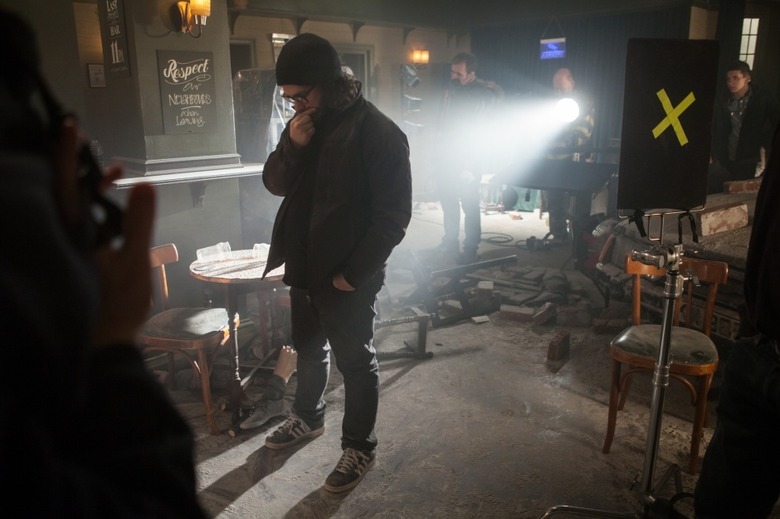 Marvel's Ant-Man strays from Edgar Wright's usual M.O. in a couple of ways, but one that Wright says is a particular "challenge" is its more family-friendly sensibility. While his filmography doesn't seem particularly brutal or violent, each of his Cornetto movies have earned an R rating from the MPAA, whereas Ant-Man is expected to be PG-13.
It also, unlike Shaun of the Dead, Hot Fuzz, or The World's End, doesn't star Simon Pegg or Nick Frost — something the pair seem OK with. Pegg even joked that he'd "advise strongly against" Wright asking him to be in the film. Hit the jump to read the trio's comments on Wright's upcoming superhero film.
It's a challenge to do. Shaun and Hot Fuzz and World's End are all R-rated films. I like the challenge of making a PG-13 film. Because you've got to entertain in a different way. You don't have the same tools. It's also different in terms of Scott Pilgrim. They're both adaptations. It's nice to be able to do an adaptation.
One question that's come up a lot is whether or not Wright will bring his zippy sense of humor to the Marvel universe, which — as fun and witty as it can be — isn't as overtly comedic as Wright's Cornetto films are. But Wright thinks the existing Marvel films are "funny and entertaining," and he hopes Ant-Man will be too. "I think it would be as funny as the other Marvel movies that have come out," he said.
As for whether Wright's BFFs Pegg and Frost might cameo in Ant-Man, well, "You'll have to wait and see," said Frost. But you probably shouldn't count on it. "Which character would I be on screen?" he asked. "I don't think there are many superheroes who are big men, essentially."
Pegg — who raised eyebrows earlier this year when he posed next to an Ant-Man comic — said there probably wasn't a part for him, either. "If Edgar asked me, I'd think about it," he conceded. "But as his friend and his lawyer, I would advise strongly against asking me." Besides, he pointed out, it probably wouldn't hurt the three of them to try and "do things separately."
Ant-Man opens July 31, 2015.