'Edge Of Tomorrow' Trailer: Tom Cruise Reloads His War Game Over And Over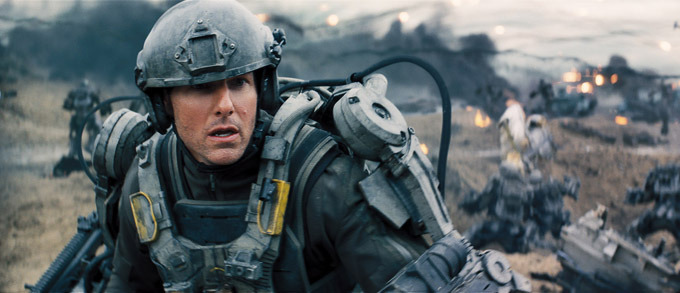 We've long referred to Edge of Tomorrow, originally called All You Need is Kill, as "Starship Troopers plus Groundhog Day," because Tom Cruise plays a guy thrown into battle against an alien force who is killed moments after he gets to the fight. But he doesn't stay dead; instead he wakes up on that fateful morning of battle over and over again, and therefore has to fight and die over and over again.
That repeated last day turns out to be the chance for this guy to really become a soldier, as the extra lives mean that he can learn to fight and survive, with a little help from another warrior (Emily Blunt).
Check out the trailer below, which comes complete with a little bit of Bill Paxton.
Edge of Tomorrow opens on June 6, 2014.
Lt. Col. Bill Cage (Tom Cruise) is an officer who has never seen a day of combat when he is unceremoniously dropped into what amounts to little more than a suicide mission. Killed within minutes, Cage now finds himself inexplicably thrown into a time loop—forcing him to live out the same brutal combat over and over, fighting and dying again...and again.
But with each battle, Cage becomes able to engage the adversaries with increasing skill, alongside Special Forces warrior Rita Vrataski (Emily Blunt). And, as Cage and Rita take the fight to the aliens, each repeated encounter gets them one step closer to defeating the enemy.