'Dawn Of The Planet Of The Apes' Posters Are All About The Apes; New Trailer Next Week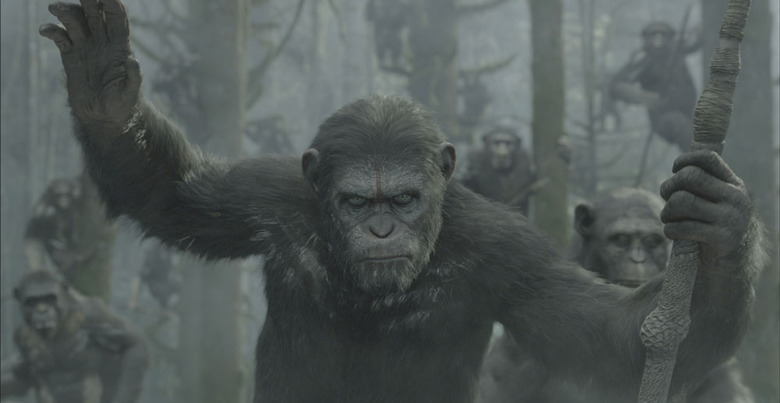 Dawn of the Planet of the Apes has several human characters, including those played by Jason Clarke and Keri Russell. But if these four new posters are any indication, the real stars of the show will be the apes.Andy Serkis' Caesar and his fellow simians take center stage in this batch of one-sheets, which show them with war paint smeared across their glowering faces. As for what the purpose is of those lovely facial decorations, well, perhaps we'll find out when the trailer hits next week. Check out the posters and get the trailer release details after the jump.
Dawn of the Planet of the Apes picks up where Rise of the Planet of the Apes left off, with the apes ascendant and the human race in decline. The official synopsis reads as follows:
A growing nation of genetically evolved apes led by Caesar is threatened by a band of human survivors of the devastating virus unleashed a decade earlier. They reach a fragile peace, but it proves short-lived, as both sides are brought to the brink of a war that will determine who will emerge as Earth's dominant species.
If you've seen the original, it shouldn't be too hard to figure out who wins that war. Still, it should be fun to watch the conflict play out. We'll get our first taste of the action when the trailer lands Wednesday, December 18 at 6:00 AM Pacific Time, as announced by director Matt Reeves this morning. You can be sure we'll have it up here on /Film the moment it goes up.
Fox has Dawn of the Planet of the Apes set for release on July 11, 2014. Gary Oldman, Judy Greer, Kodi Smit-McPhee, and Toby Kebbell also star.