Chris Morgan Revising 'Fast & Furious 7' Script, Shooting Could Resume In January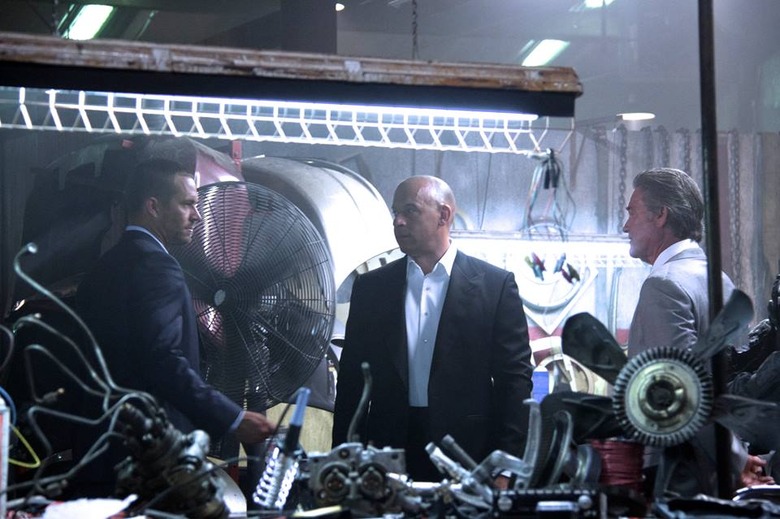 Production on Fast & Furious 7 has been on indefinite hold since the death of star Paul Walker on November 30, but sooner or later Universal is going to have to decide how it wants to proceed. Today, we have word that they're making some tentative progress in that direction.
According to a new report, writer Chris Morgan is working to revise the screenplay so that the film can use the footage of Walker that's already been shot, while simultaneously retiring his cop character Brian O'Conner. If all goes well, the shoot could resume in late January. Hit the jump for the latest on this tough situation.
In the wake of the tragedy, Universal considered several options including scrapping the movie and starting over. Should Morgan's revisions fail to satisfy the filmmakers, that's still an option. If Universal goes that route, their insurance firm Firemans' Fund will have to pick up the bill for the $150 million that the studio has already spent.
For now, though, Universal is hoping to salvage the footage they have. A source claims that that seems to be what the fans want, but points out that it's a delicate situation: "What will drive everything is, is there an honorable and sensible way to do this?"
Whatever the studio decides, it'll have to do so quickly. They're continuing to lose money every day that Fast & Furious 7 isn't shooting (SAG members, for instance, get half their salary even during a suspension), and the various guilds have rules governing exactly how long cast and crew can be kept on hold.
The goal right now is to restart the production in late January. However, even if the filmmakers meet that goal, the long hiatus makes it impossible for Fast & Furious 7 to meet its originally planned July 11, 2014 release date. Although Universal has not yet announced a new date, it's said to be figuring out which of its other films it can push into that spot.
As terrible as this situation is, insiders are confident that Universal and its prized Fast & Furious franchise will eventually bounce back. Indeed, they say, Walker's death could make the film even more lucrative. "Sadly, it will probably make people more interested," said a source at the studio.