Simon Kinberg To Make Expanded Universes For 'X-Men' And 'Fantastic Four' Films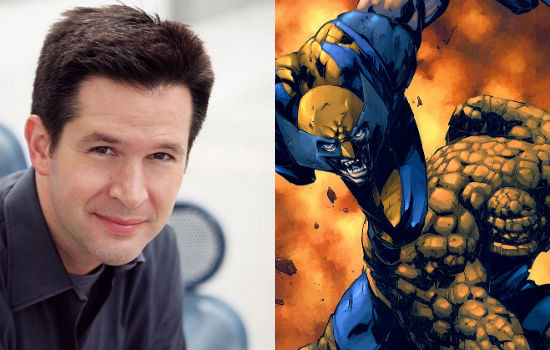 Marvel has Joss Whedon, Warner Bros. has David Goyer and now Fox has a similar creative force. Though Mark Millar was hired last year to oversee some of Fox's comic book properties, they've just signed Simon Kinberg to a three year first look deal he promises will include Marvel-like expansions of the X-Men and Fantastic Four universes.
The Hollywood Reporter broke the news of Kinberg's new deal which seems crazy because the writer/producer has been incredibly prolific as of late. In addition to his work as a producer on the upcoming Fox films X-Men: Days of Future Past and Fantastic Four, he's also producing Star Wars Episode VII, writing a Star Wars spin-off, and working with Neill Blomkamp on his films like Elysium and Chappie.
But at Fox, he'll work both on new properties and those precious Marvel properties. Here's what he had to say about those:
I have a lot of ideas on how to built those brands and do what everybody is thinking of these days: Be like Marvel. I want to be able to build stories over multiple movies.
The public got their first whiff of what's in store today with the reveal of X-Men: Apocalypse coming in May 2016. Kinberg's involvement with that hasn't been confirmed, but it seems likely. He'd likely also be involved in the development of James Mangold's Wolverine sequel. On the non-superhero side, Kinberg is developing films like the graphic novel Rust and the e-book The Martian. Drew Goddard is attached to that.
While this is all well and good for Kinberg, Wolverine and Mr. Fantastic, the question from the public side is where does this leave Mark Millar? Millar was hired in 2012 to oversee these projects yet, besides getting his own story, The Secret Service, off the ground with Matthew Vaughn, we haven't heard much about his involvement with the other movies.
Speaking with James Mangold before The Wolverine, the director made it sound like conversations between the he and Millar were minimal. And rumor has it there was a similar vibe on the set of X-Men: Days of Future Past. Until we hear otherwise, Millar may still be a part of these conversations, but Kinberg might have overstepped him.
Though we were pretty confident X-Men and Fantastic Four would grow into larger Marvel-esque crossover stories, how do you feel about Kinberg being the guy at the reigns?