Sundance Midnights And Spotlight Programs Feature 'You're Next' Follow-Up And Recent Festival Faves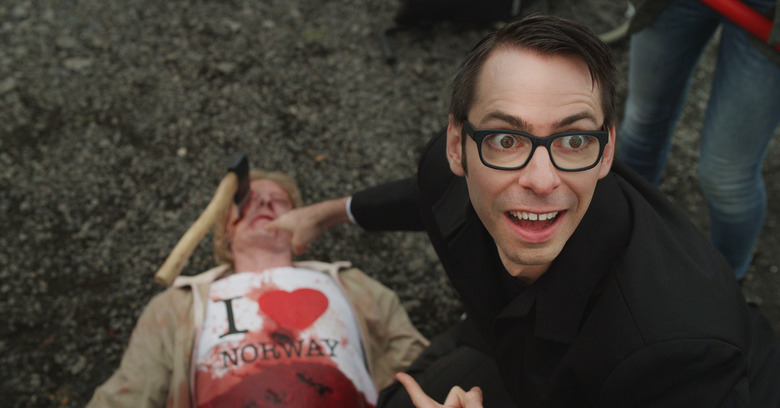 Today brought a new round of announcements for the 2014 Sundance Film Festival, and there's some fun stuff on the list. The films announced today are in the Spolight program, which pulls in films that have played at other festivals; the Park City at Midnight slate, and the few films programmed as part of Sundance Kids.
In the Spotlight list are films like the really solid revenge movie Blue Ruin and the super-odd and endearing S&M comedy R100, as well as Richard Ayoade's The Double, and Tom Hardy's one-man movie Locke. The midnight slate features The Guest, from You're Next writer/director team Simon Barrett and Adam Wingard, and Cooties, featuring Elijah Wood and Rainn Wilson battling elementary school students transformed by a virus "into a feral swarm of mass savages." And the kids program features the lovely-looking Ernest & Celestine, from the filmmakers behind A Town Called Panic.
The lineup is below, with as many photos as are available at the moment.
SPOTLIGHT
Regardless of where these films have played throughout the world, the Spotlight program is a tribute to the cinema we love.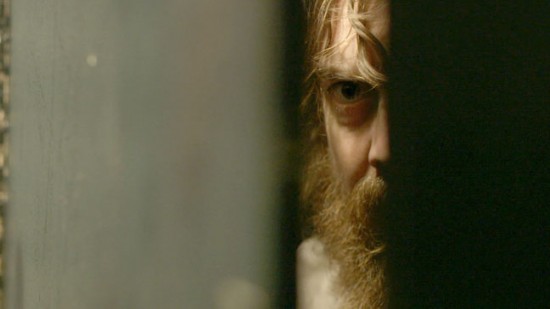 Blue Ruin / U.S.A. (Director and screenwriter: Jeremy Saulnier) — A mysterious outsider's quiet life turns upside down when he returns to his childhood home to carry out an act of vengeance. Proving to be an amateur assassin, he winds up in a brutal fight to protect his estranged family. Cast: Macon Blair, Amy Hargreaves, Sidné Anderson, Devin Ratray, Kevin Kolack.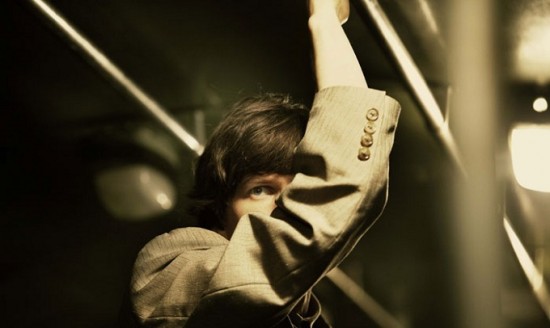 The Double / United Kingdom (Director: Richard Ayoade, Screenwriter: Avi Korine) — Jesse Eisenberg plays Simon, a timid and isolated man who is overlooked at work. When James, a new coworker arrives, he upsets the balance because he is both Simon's physical double and his opposite: confident and good with women. Then James slowly starts taking over Simon's life. Cast: Jesse Eisenberg, Mia Wasikowska, Wallace Shawn, Noah Taylor, Cathy Moriarty, James Fox.
Ida / Poland (Director: Pawel Pawlikowski, Screenwriters: Pawel Pawlikowski, Rebecca Lenkiewicz) — Anna, a young novitiate nun in 1960s Poland, is on the verge of taking her vows when she discovers a dark family secret dating back to the years of the Nazi occupation. Cast: Agata Kulesza, Agata Trzebuchowska, Dawid Ogrodnik.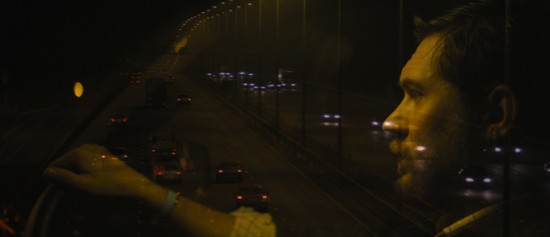 Locke / United Kingdom (Director and screenwriter: Steven Knight) — Locke is a feat of dynamic storytelling from Academy Award–nominated writer/director Steven Knight, anchored by Tom Hardy's fantastic performance. Unfolding in real time, the film is a gripping story of choices, consequences, and a man who risks everything he holds dear to do the right thing. Cast: Tom Hardy, Ruth Wilson, Olivia Colman, Andrew Scott, Tom Holland, Bill Milner.
The Lunchbox / India, France, Germany (Director and screenwriter: Ritesh Batra) — A mistake made by the dabbawallahs, Mumbai's famously efficient lunchbox delivery system, connects a young housewife to a stranger in the dusk of his life. Through notes in the lunchbox, the two build a fantasy world that gradually threatens to overwhelm their reality. Cast: Irrfan Khan, Nimrat Kaur, Nawazuddin Siddiqui, Denzil Smith, Bharati Achrekar, Nakul Vaid Nakul Vaid.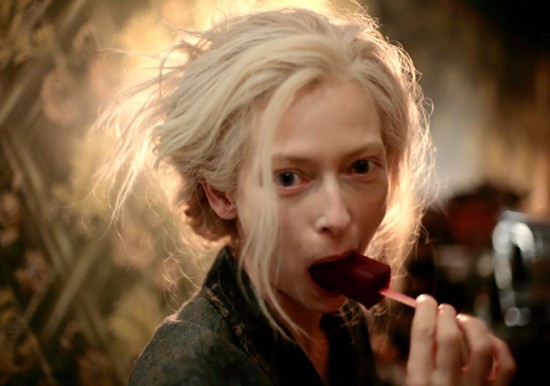 Only Lovers Left Alive / U.S.A. (Director and screenwriter: Jim Jarmusch) — Set against the desolation of Detroit and Tangier, an underground musician, depressed by the direction the world is taking, reunites with his lover. Their love story has endured for centuries, but the woman's uncontrollable sister disrupts their idyll. Can these wise outsiders continue to survive as the world collapses around them? Cast: Tom Hiddleston, Tilda Swinton, Mia Wasikowska, John Hurt, Anton Yelchin, Jeffrey Wright.
R100 / Japan (Director and screenwriter: Hitoshi Matsumoto) — A mild-mannered family man with a secret taste for S&M finds himself pursued by a gang of ruthless dominatrices—each with a unique talent—in this hilarious and bizarre take on the sex comedy from Japanese comic mastermind Hitoshi Matsumoto. Cast: Nao Ohmori, Lindsay Kay Hayward, Hairi Katagiri.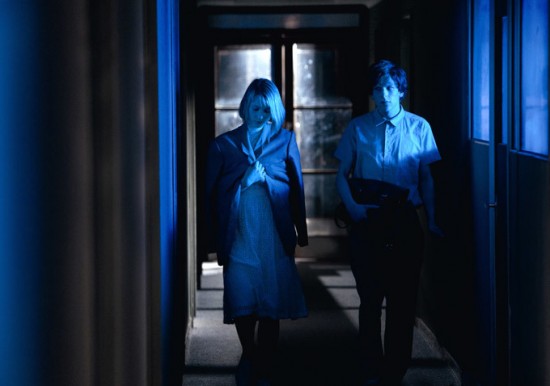 Stranger by the Lake / France (Director and screenwriter: Alain Guiraudie) — Frank spends his summer searching for companionship at a lake in France. He meets Michel, an attractive, mysterious man and falls blindly in love. When a death occurs, Frank and Michel become the primary suspects. Stranger by the Lake is an erotic thriller testing the limits of sexual desire. Cast: Pierre Deladonchamps, Christophe Paou, Patrick d'Assumçao.
PARK CITY AT MIDNIGHT
From horror flicks to comedies to works that defy any genre, these unruly films will keep you edge-seated and wide awake. Each is a world premiere.
The Babadook / Australia (Director and screenwriter: Jennifer Kent) — A single mother, plagued by the violent death of her husband, battles with her son's fear of a monster lurking in the house, but soon discovers a sinister presence all around her. Cast: Essie Davis, Noah Wiseman, Daniel Henshall, Hayley McElhinney, Barbara West, Ben Winspear.
Cooties / U.S.A. (Directors: Jonathan Millott, Cary Murnion, Screenwriters: Leigh Whannell, Ian Brennan) — A mysterious virus hits an isolated elementary school and transforms the students into a feral swarm of mass savages; then an unlikely hero must lead a motley band of teachers in the fight of their lives. Cast: Elijah Wood, Rainn Wilson, Alison Pill, Jack McBrayer, Leigh Whannell, Nasim Pedrad.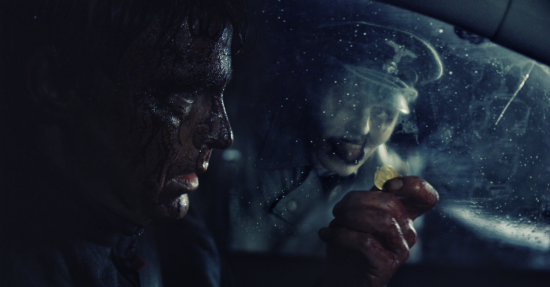 Dead Snow; Red vs. Dead / Norway (Director: Tommy Wirkola, Screenwriters: Tommy Wirkola, Stig Frode Henriksen, Vegar Hoel) — The gruesome Nazi Zombies are back to finish their mission, but our hero is not willing to die. He is gathering his own army to give them a final fight. Cast: Vegar Hoel, Stig Frode Henriksen, Martin Starr, Ørjan Gamst, Monica Haas, Jocelyn DeBoer.
The Guest / U.S.A. (Director: Adam Wingard, Screenwriter: Simon Barrett) — A soldier on leave befriends the family of a fallen comrade. He soon becomes a threat to everyone around him when it's revealed he's not who he says he is. Cast: Dan Stevens, Maika Monroe, Leland Orser, Lance Reddick, Chase Williamson, Brendan Meyer.
Killers / Japan, Indonesia (Directors: The Mo Brothers, Screenwriters: Timo Tjahjanto, Takuji Ushiyama) — Two serial killers post their violent crimes online in a psychotic battle for notoriety. It soon becomes clear that they will square off with one another face to face. Cast: Kazuki Kitamura, Oka Antara, Rin Takanashi, Luna Maya, Ray Sahetapy.
The Signal / U.S.A. (Director: William Eubank, Screenwriters: William Eubank, Carlyle Eubank, David Frigerio) — Three college students disappear under mysterious circumstances while tracking a computer hacker through the Southwest. Cast: Laurence Fishburne, Brenton Thwaites, Olivia Cooke, Beau Knapp.
Under the Electric Sky (EDC 2013) / U.S.A. (Directors: Dan Cutforth, Jane Lipsitz) — This 3-D film chronicles the love, community, and life of festivalgoers during Electric Daisy Carnival Las Vegas, the largest music festival in the U.S. Behind-the-scenes footage and exclusive interviews with Insomniac's Pasquale Rotella reveal the magic that makes this three-night, 345,000-person event a global phenomenon.
What We Do in the Shadows / New Zealand, U.S.A. (Directors and screenwriters: Taika Waititi, Jemaine Clement) — This mockumentary follows the struggles of a group of New Zealand–based vampires to understand modern society and adapt to the ever-changing world around them. Cast: Jemaine Clement, Taika Waititi, Jonny Brugh, Cori Gonzales-Macuer, Stu Rutherford.
SUNDANCE KIDS
To reach our youngest independent film fans, we have created a new section of the Festival especially for them. Programmed in cooperation with Tumbleweeds, Utah's premiere film festival for children and youth.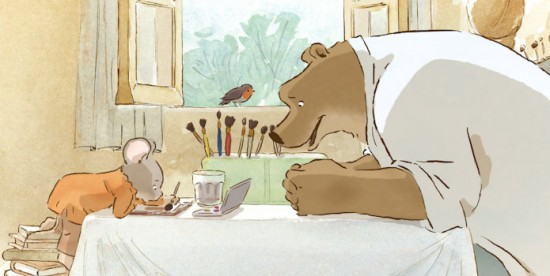 Ernest and Celestine / France, Belgium, Luxembourg (Directors: Benjamin Renner, Stéphane Aubier, Vincent Patar, Screenwriter: Daniel Pennac) — Unlike her fellow mice, Celestine is an artist and a dreamer. When she nearly ends up as breakfast for a bear named Ernest, the two form an unlikely bond that is quickly challenged by their respective communities. Cast: Forest Whitaker, Mackenzie Foy, Lauren Bacall, Paul Giamatti, William H. Macy, Megan Mullally. World Premiere (English version)
Zip & Zap and the Marble Gang / Spain (Director: Oskar Santos, Screenwriters: Francisco Roncal, Jorge Lara, Oskar Santos) — Zip and Zap are punished by being sent to a re-education center. Guided by intelligence, they uncover a mysterious secret hidden deep within the school and end up having the most exciting adventure of their lives. Cast: Javier Gutiérrez, Daniel Cerezo, Raúl Rivas, Claudia Vega, Marcos Ruiz, Fran García. U.S. Premiere
NEW FRONTIER FILMS
New Frontier champions films that expand, experiment with, and explode traditional storytelling.
The Better Angels / U.S.A. (Director and screenwriter: A.J. Edwards) — Set in the harsh wilderness of Indiana, this is the story of Abraham Lincoln's youth. It tells of the hardships that shaped him, the tragedy that marked him forever, and the two women who guided him to immortality. Cast: Jason Clarke, Diane Kruger, Brit Marling, Wes Bentley. World PremiereThe Girl from Nagasaki / Germany, U.S.A., Japan, Italy (Director: Michel Comte, Screenwriters: Anne-Marie Mackay, Ayako Yoshida, Michel Comte) — This 3D feature film production of the classic Puccini opera Madame Butterfly is directed by world-renowned photographer Michel Comte. It's a modern-day tale that starts with the young madame emerging from the ashes of the atomic bomb in Nagasaki. Cast: Christopher Lee, Sasha Alexander, Michael Wincott, Michael Nyqvist, Robert Evans, Polina Semionova. International Premiere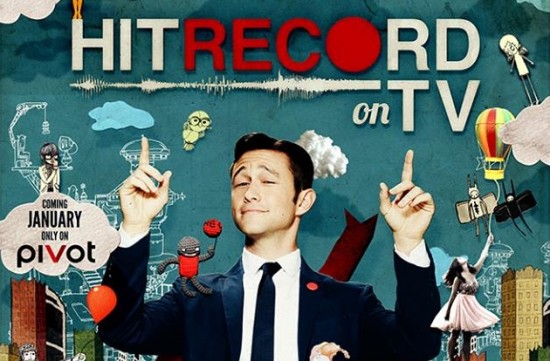 HIT RECORD ON TV / U.S.A.(Director: Joseph Gordon-Levitt) — HIT RECORD ON TV is a new kind of variety show with host Joseph Gordon-Levitt directing a global online community of artists as they create short films, music, animation, and more. Anybody with an Internet connection is invited to contribute, and each episode focuses on a different theme. World PremiereLiving Stars / Argentina (Directors: Mariano Cohn, Gastón Duprat) — Argentinians open their homes to the public and perform dance numbers they normally only do alone, in front of a mirror. The directors portray them in their houses, with improvised sets, revealing a collection of urban curiosities. World PremiereThrough a Lens Darkly: Black Photographers and the Emergence of a People / U.S.A. (Director: Thomas Allen Harris, Screenwriters: Thomas Allen Harris, Don Perry, Paul Carter Harrison) — Through a Lens Darkly is an epic film that moves poetically between the present and the past through the work of contemporary photographers and artists. Their pictures and stories seek to reconcile legacies of pride and shame while giving a voice to images long suppressed, forgotten, or hidden from sight. World Premiere