'The Amazing Spider-Man 2' Trailer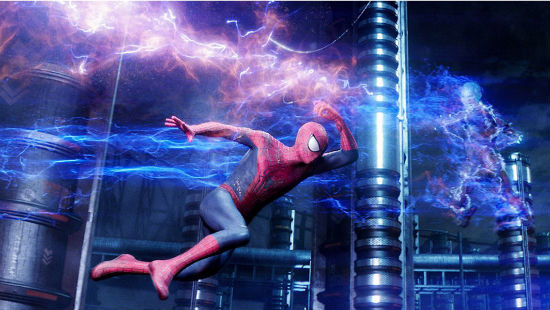 Here's the moment we've all been waiting for... well, since last week, anyway. Sony has unleashed the newest trailer for The Amazing Spider-Man 2, which once again stars Andrew Garfield as the young webslinger.
The sequel sees Spidey crossing paths with new threats, including Jamie Foxx's Electro, as well as an old friend, Dane DeHaan's Harry Osborn. Marc Webb returns as director. Check out the video after the jump.
Spidey's sure got a lot going on in this movie. He's battling not one, not two, but three different villains, all while uncovering still more secrets about his past. On top of all that, during what little free time he has left, he's still romancing the lovely Gwen Stacy (Emma Stone). Good thing she's the kind of understanding girlfriend who shrugs off her boyfriend being shot at by machine guns with nothing more than a shrug and an indulgent smile. Let's just hope this doesn't turn into another overstuffed mess a la Spider-Man 3.
The Amazing Spider-Man 2 swings into theaters May 2, 2014. Sally Field, Paul Giamatti, and Felicity Jones also star.
We've always known that Spider-Man's most important battle has been within himself: the struggle between the ordinary obligations of Peter Parker and the extraordinary responsibilities of Spider-Man. But in The Amazing Spider-Man 2, Peter Parker finds that a greater conflict lies ahead.
It's great to be Spider-Man (Andrew Garfield). For Peter Parker, there's no feeling quite like swinging between skyscrapers, embracing being the hero, and spending time with Gwen (Emma Stone). But being Spider-Man comes at a price: only Spider-Man can protect his fellow New Yorkers from the formidable villains that threaten the city. With the emergence of Electro (Jamie Foxx), Peter must confront a foe far more powerful than he. And as his old friend, Harry Osborn (Dane DeHaan), returns, Peter comes to realize that all of his enemies have one thing in common: OsCorp.