Official 'Amazing Spider-Man 2' Posters Offer Better Glimpse Of Rhino, Electro And Green Goblin [UPDATED]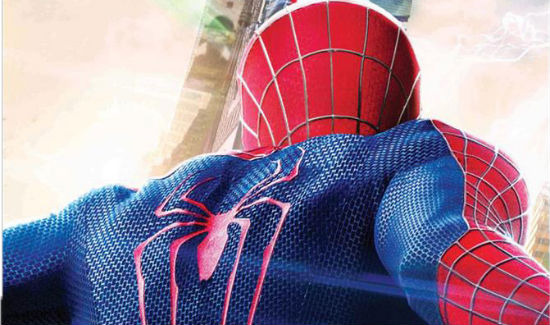 Last week, a three-poster array from The Amazing Spider-Man 2 leaked out that answered a major question about Marc Webb's sequel. The poster confirmed the film features at least three villains, including Dane DeHaan as the Green Goblin (as well as Paul Giamatti's Rhino and Jamie Foxx's Electro). At the time though, the images were only low-res. Now, Sony Pictures has released the high resolution, official images, and you can blow them up and dissect the images to your heart's content. Check them out below, along with a new synopsis.
UPDATE: Five new images, not from these posters, have also come online.
The below images come from the official Spider-Man Twitter.
The first trailer for the film debuts Thursday, check back then to see what secrets Marc Webb and company have for us. From what we've heard, the Rhino is mostly a first-act guy, with Electro being the main focus of the film, and the Goblin (or whatever he'll call himself) fitting in somewhere. And in that third poster, who's the guy on the screen near Electro? Could be Dane DeHaan, but it's hard to tell.
Meanwhile, here's the interesting new official synopsis:
We've always known that Spider-Man's most important battle has been within himself: the struggle between the ordinary obligations of Peter Parker and the extraordinary responsibilities of Spider-Man. But in The Amazing Spider-Man 2, Peter Parker finds that a greater conflict lies ahead.
It's great to be Spider-Man (Andrew Garfield). For Peter Parker, there's no feeling quite like swinging between skyscrapers, embracing being the hero, and spending time with Gwen (Emma Stone). But being Spider-Man comes at a price: only Spider-Man can protect his fellow New Yorkers from the formidable villains that threaten the city. With the emergence of Electro (Jamie Foxx), Peter must confront a foe far more powerful than he. And as his old friend, Harry Osborn (Dane DeHaan), returns, Peter comes to realize that all of his enemies have one thing in common: OsCorp.
The Amazing Spider-Man 2 opens on May 2, 2014.
UPDATE: USA Today added these very cool new images from the film.