'All Is Lost' Director J.C. Chandor To Make Vince Lombardi Biopic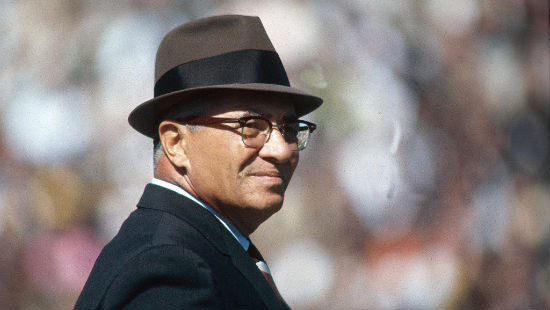 The National Football League is known for a slew of iconic names, but only one has his name on the championship trophy. When a team wins the Super Bowl, they received the Vince Lombardi Trophy, named after the legendary and innovative coach of the Green Bay Packers. Lombardi coached the Packers from 1959-1967, a run during which they won both the first and second Super Bowls.
Now, writer/director J.C. Chandor (All is Lost, Margin Call) has been hired by Legendary Pictures to write and potentially direct a film based on the most celebrated coach in NFL history.
Deadline broke the news of this deal. Chandor, who is currently getting ready to film his follow-up to All is Lost, A Most Dangerous Year starring Jessica Chastain, has begun to write the screenplay. Legendary Pictures, headed up by football nut and partial Steelers owner Thomas Tull, has the blessing of the Lombardi family as well as the rights to Lombardi, a Broadway play written by Eric Simonson.
The play takes place over one week during the 1965 season when a magazine reporter attempts to find out what makes Lombardi tick. When all of the Packer players refuse to cooperate, he turns to Lombardi's wife for answers. This story is intercut with flashbacks from some of his earlier struggles as a coach, which included stints at West Point as well as the New York Giants. Dan Lauria (The Wonder Years) played the coach in the play.
That's not to necessarily say Chandor's film will be a direct adaptation of Simonson's play (which, itself, is an adaptation of the book When Pride Still Mattered: A Life of Vince Lombardi by David Maraniss), but it's an example of one potential direction the film may take. Another note, Robert De Niro was attached to play the coach back in 2010 for Eric Roth, but this is not the same film.
Since Chandor, who also did 2011's Margin Call, has a film to shoot early next year, this Lombardi film could be a ways off, especially if he wants to direct. Still, it sounds like a great blend of true life and inspiration for a film.