'The Act Of Killing' Tops Sight & Sound 2013 Poll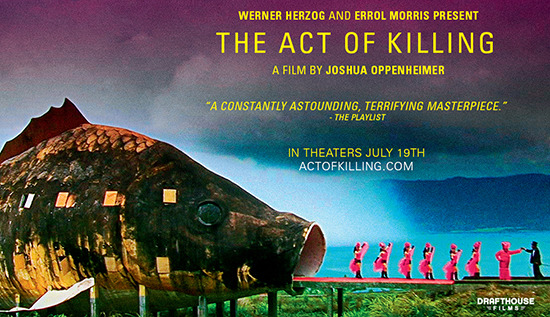 End of year lists can be great for highlighting stuff you may have missed, and the annual poll from UK film magazine Sight & Sound, one of the first 2013 year-end lists out of the gate, has a number of films included that are worth tracking down. The magazine polls over 100 "international critics, curators and academics," taking a top-five list from each. The magazine's list of top films (with some tied for a couple berths) is generated from those votes.
Documentary The Act of Killing, which follows as men responsible for genocidal killings in Indonesia confront and recreate their crimes as film scenes, took first place by a margin of five votes. Gravity and Blue is the Warmest Colour are the second and third place choices.
The full list is below, complete with trailers for each film, so you can be introduced to whatever films on the list are unfamiliar.
Here's the list; find a bit more detail and vote counts at the official publication page.
1. The Act of Killing
Joshua Oppenheimer, Denmark/U.K./Norway/Germany/Finland/Sweden/Netherlands/Poland
2. Gravity
Alfonso Cuaron, Mexico/U.S.
3. Blue Is the Warmest Colour
Abdellatif Kechiche, Belgium/Spain/France
4. The Great Beauty
Paolo Sorrentino, France/Italy
5. Frances Ha
Noah Baumbach, Brazil/U.S.
=6. A Touch of Sin
Jia Zhangke, China
=6. Upstream Color
Shane Carruth, U.S.
8. The Selfish Giant
Clio Barnard, U.K.
=9. Norte, the End of History
Lav Diaz, Philippines
=9. Stranger by the Lake
Alain Guiraudie, France