Quentin Tarantino Says New Script Is A Western; Explains His Evolved Writing Process [Video]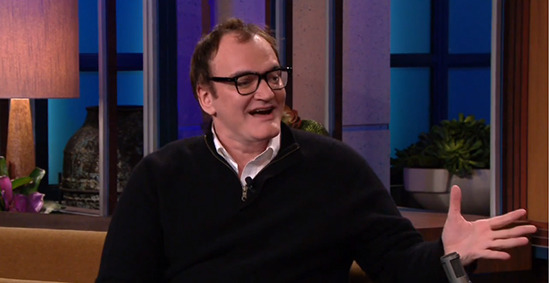 Over the last few years, Quentin Tarantino's filmmaking process has accelerated just a bit. We'd grown accustomed to the guy taking a good bit of time between films, but his announcement of Inglourious Basterds was followed just a year later by the film's first screening, and then Django Unchained came relatively hot on the heels of the war movie. (OK, it was a couple years, but that's better than four or five years.)
Every round of promotional tours that takes place leads to Tarantino talking about possible new script ideas, and now we've got a new one. While making an appearance on The Tonight Show just hours ago, kind of as a 20th anniversary of his first time on the show, Tarantino said that the script he's finishing now is a new western.
Update: Video of the segment has been added below.
We were tipped off to Tarantino's talk about a new western by my friend BenDavid, who was at the taping today, and the quotes did indeed make the broadcast. What didn't make the broadcast is the fact that QT was evidently drinking moonshine all afternoon during the taping.
The director talked about how his recent screenwriting efforts start as novel-like efforts, and referenced the graphic novel collection of the comic adaptation of the original Django Unchained script. Then, asked about a new script, he said,
I can't talk that much about it, but I will say one thing. I haven't told anyone about this publicly, but I will say the genre. It's a western. It's not a Django sequel, but it's another Western. I had so much fun doing Django and I love westerns so much, that after I taught myself how to make one, it's  like "OK, now let me make another one now that I know what I'm doing."
That doesn't give us a lot to go on, but there are a couple things the writer/director has mentioned in the past that could be linked to this. One is the possible tale based on abolitionist John Brown, and another is essentially a western set in Australia. But it could just as easily be something new, and it doesn't sound like it could be the Basterds-related story Killer Crow. And remember it was just a year ago that Tarantino was talking like his feature directorial career has a very finite span; how many of these ideas will he realistically make?
Interestingly, Tarantino also talked about the fact that his writing process changed a bit in the last few years or so. Asked about that process, he explained,
It's funny, in the last, like, five years, it's kind of developed into something else. Before, what I would do is, normally if I had to write during the day I'd go out to a restaurant or to a bar, kinda write out in public and get the juices flowing that way. But at home I'd write at home all night long. That kind of changed around the time of Inglourious Basterds.
I started writing at home, starting at around ten in the morning, something like that, and I'd write until five or six or seven, whenever the muses leave you. That would be the work that I did for that day. Then afterwards, I'd go into my pool, and I keep my pool warm. You can take drugs, or you heat your pool — I heat my pool. I kinda soak, I do swim, I do laps, but in this case it's more soaking. And so what I'm doing is, if I've just finished a scene, then I'm thinking about how I can make it better. Or if I've finished it, and it's on to the next thing, then it's on to what happens next. And I sit there and I think about it, and all these ideas come to me, dialogue, and I kinda work it out a little bit. Then I get out of the pool, and I make notes. But then I don't do them. The next day, that's my work.
At the time I finished this post, this is the only video that was available from Tarantino's appearance, which sadly doesn't have any of the info above:
Update: here's the video of all the screenwriting talk: