'True Detective' Trailer: Fear And Murder In Louisiana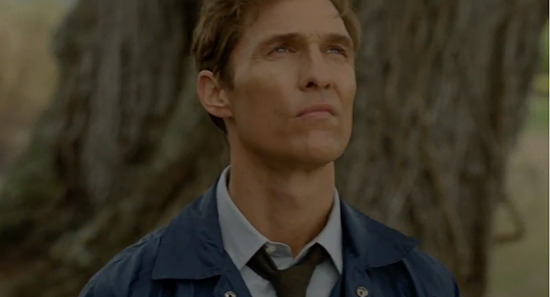 And we're back with another awesome, ominous trailer for the HBO limited series True Detective. This first self-contained season, directed entirely by Cary Fukunaga (Sin Nombre, Jane Eyre), tracks a decades-long murder case that unfolds as the same two detectives, played by Matthew McConaughey and Woody Harrelson, dig into the details in both the mid-'90s and the modern day.
Like the other videos promoting the series, this one goes more for atmosphere, intensity, and a sense of general foreboding than it does story details. Which is just fine; these shots just make the story seem more interesting and odd.
True Detective premieres on January 19.
In 2012, Louisiana State Police Detectives Rust Cohle and Martin Hart are brought in to revisit a homicide case they worked in 1995. As the inquiry unfolds in present day through separate interrogations, the two former detectives narrate the story of their investigation, reopening unhealed wounds, and drawing into question their supposed solving of a bizarre ritualistic murder in 1995. The timelines braid and converge in 2012 as each man is pulled back into a world they believed they'd left behind. In learning about each other and their killer, it becomes clear that darkness lives on both sides of the law.
Written and created by Nic Pizzolatto ('The Killing') and directed by Cary Fukunaga ('Sin Nombre,' 'Jane Eyre'), 'True Detective' stars Woody Harrelson as Martin Hart and Matthew McConaughey as Rust Cohle. The series also stars Michelle Monaghan ('Mission: Impossible III') as Maggie, Hart's wife; Kevin Dunn ('Veep') as Major Quesada, the supervising officer in 1995; and Tory Kittles ('Sons of Anarchy') and Michael Potts ('The Wire') as Dets. Papania and Gilbough, the investigators now probing Hart and Cohle for answers.