'Girls' Season 3 Trailer: Dancing On Graves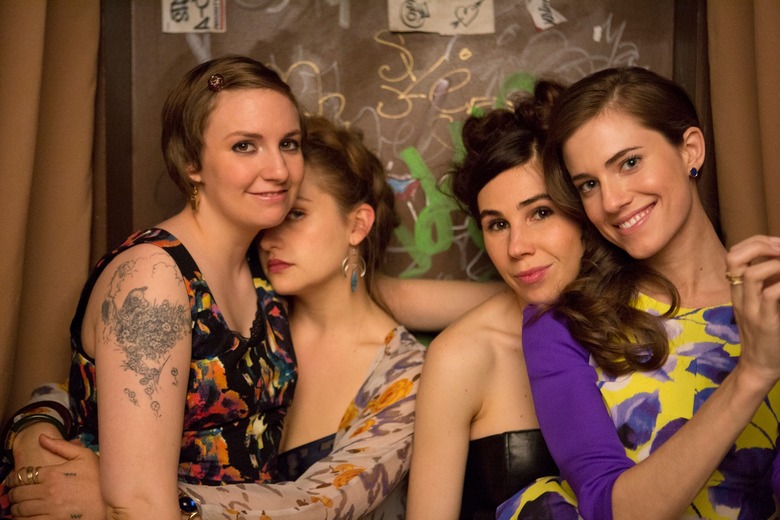 For a comedy, Girls' second season was pretty damn grim. Not meth empire / zombie apocalypse grim, perhaps, but dark nonetheless. Jessa (Jemima Kirke) skipped town, Marnie (Allison Williams) got fired, Shoshanna (Zosia Mamet) struggled with her first real relationship, and Hannah (Lena Dunham) had a full-on nervous breakdown. But it looks like their fortunes are changing for the better in Season 3.
The first full-length trailer feels like a return to the lighter tone of Season 1, in contrast to the melancholy of Season 2. All of the women are still works in progress — that's why we love them — but they seem to be better off than they were the last time we saw them. As Marnie puts it, "I am okay. I may not seem okay and I may not be okay now, but I am, like, okay." Watch the trailer after the jump.
As previously revealed in the "in production" promo, the new season has Hannah in a pretty good place. Her relationship with Adam (Adam Driver) looks surprisingly healthy, and she seems to be making some strides in her career. But, Dunham says, "of course because this is Girls, that can't last."
In contrast, Marnie is "manically grieving" the end of her relationship with Charlie. (The actor, Christopher Abbott, dropped out of the show.) Her plotline seems like a bit of a repeat, since last season also had her recovering from an earlier breakup with him, but hopefully Girls will find a new way to approach it.
Moving on, Shoshanna's storyline seems more or less like a continuation of her arc from last season, as she attempts to be more sexually adventurous, and her former flame Ray (Alex Karpovsky) seems to have taken her advice from last season to heart and gotten his life on track.
Jessa's situation is a little more mysterious, but the show promises to reveal what happened after she disappeared last season. But perhaps the best news of all is that Elijah (Andrew Rannells) is back, now that The New Normal has ended. The girls of Girls could certainly use a guy who tells it like it is.
Girls returns to HBO on January 12, 2014.