Ben Affleck And Matt Damon To Produce Ed Brubaker's 'Sleeper;' Shawn Ryan Co-Writing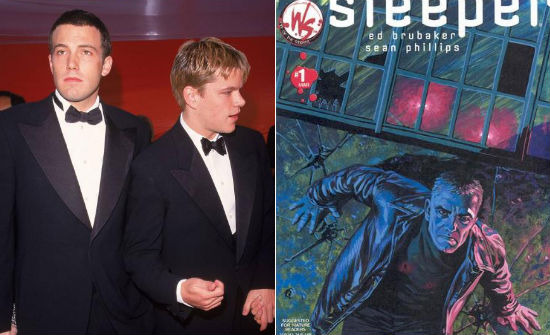 Ben Affleck isn't only bringing Batman to the big screen over at Warner Bros., he's teaming up with his old pal to produce a lesser known DC Comic, too. Affleck and Matt Damon will produce an adaptation of the Ed Brubaker Vertigo comic Sleeper for the studio. Sleeper follows a man with the ability to absorb and pass along pain as he goes undercover in the world of organized crime.
Tom Cruise and Sam Raimi were circling the project back in 2008 but this current iteration will be adapted by writers Shawn Ryan (The Shield) and David Wiener (Last Resort).
Variety broke the news of the project, which doesn't have any directors or actors attached yet.Sleeper, a dark blend of noir and comic book sensibilities, is a project Warner Bros. has been trying to adapt to the big screen for a long time. However, when they first started, it was pretty obvious audiences weren't quite ready for a darker take on a comic book movie. That obviously changed in the years since they first attempted to bring it to the big screen though, and even more so since Brubaker and artist Sean Phillips released the series in 2004.
With Damon and Affleck producing, this project sounds like an important one for the studio. But, as is the case with all projects like this, it'll really come down to the script Ryan and Wiener end up writing. Ryan being part of the team is particularly exciting, as he created one of the best TV shows of all time, The Shield.
Have you read Sleeper before? Are you surprised it might make it to the big screen? Who would be a good Holden Carver, the main character?