Watch The Concert Movie Trailer And New Clip From The Coens' 'Inside Llewyn Davis'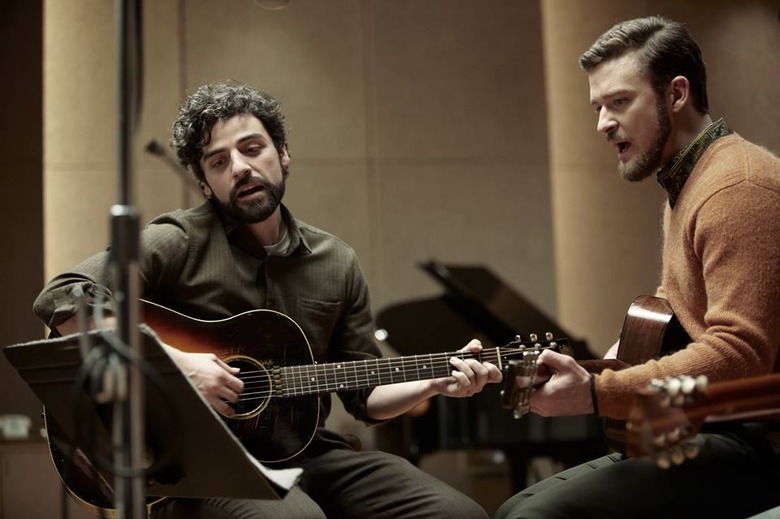 All movies have soundtracks. Some of them have really good soundtracks. Very few of them have soundtracks so exceptional, they're able to inspire a concert and a subsequent documentary of their own. But leave it to the Coen Brothers to be that exception.
Their latest film Inside Llewyn Davis centers on a musician (Oscar Isaac) struggling to make it on the folk scene in '60s New York. To complement that premise, T Bone Burnett has produced a killer soundtrack filled with performances by Isaac, Carey Mulligan, Justin Timberlake, Marcus Mumford, Punch Brothers, and more.
All of them plus a few more famous friends (including Joan Baez, Colin Meloy, Patti Smith, and Jack White) got together for a benefit show in New York City this fall, and Showtime is now releasing that one-night-only concert as a documentary. After the jump, check out a trailer for the network's Another Day, Another Time, plus another new clip from the movie itself.
That lineup makes the music worth checking out even independently of the movie itself. But the soundtrack works even better in context, and the film's definitely worth a look too. In this clip, Llewyn has a disheartening conversation with the confused man (Jerry Grayson) who runs his tiny record label.
Inside Llewyn Davis rolls out into theaters starting December 6. Another Day, Another Time airs Friday, December 13 on Showtime.
Inside Llewyn Davis follows a week in the life of a young folk singer as he navigates the Greenwich Village folk scene of 1961.
Llewyn Davis (Oscar Isaac) is at a crossroads. Guitar in tow, huddled against the unforgiving New York winter, he is struggling to make it as a musician against seemingly insurmountable obstacles — some of them of his own making. Living at the mercy of both friends and strangers, scaring up what work he can find, Llewyn's misadventures take him from the baskethouses of the Village to an empty Chicago club — on an odyssey to audition for a music mogul — and back again.
Brimming with music performed by Isaac, Justin Timberlake and Carey Mulligan (as Llewyn's married Village friends), as well as Marcus Mumford and Punch Brothers, Inside Llewyn Davis — in the tradition of O Brother, Where Art Thou? — is infused with the transportive sound of another time and place. An epic on an intimate scale, it represents the Coen Brothers' fourth collaboration with multiple-Grammy® and Academy Award®-winning music producer T Bone Burnett. Marcus Mumford is associate music producer.