LOL: Harrison Ford Has The Best Possible Reaction To A David Blaine Card Trick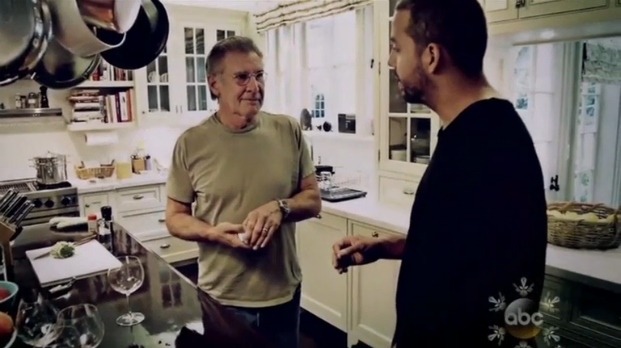 As a 71-year-old man who's played both Han Solo and Indiana Jones, Harrison Ford ought to be pretty tough to amaze. Sure, it's not like he was battling real space aliens or actual Nazis, but he's been a rich, powerful icon of Hollywood long enough to see some crazy stuff. And yet, apparently not even he is immune to the charms of an expertly executed card trick.
Magician David Blaine has been stopping by celeb homes to perform illusions for his recent TV special David Blaine: Real or Magic. Most have responded with great enthusiasm, but arguably the best reaction is Ford's. Watch the clip after the jump.
Ford's reaction here is just priceless, especially since he's got a reputation for being somewhat curmudgeonly. He looks like his world's been rocked before Blaine even cuts open the fruit, and once he a dazed, delighted smile takes over his face. He almost seems like a kid again, albeit one with a bit of a potty mouth. (Or a serious buzz on.) Blaine could probably even make Tommy Lee Jones crack a grin.
Ford wasn't the only movie star to fall under Blaine's spell in last night's ABC show. Vulture, which posted the video above, has compiled GIFs of all of the big celebrity reactions, from Jon Stewart to Kanye West to Will "Final Countdown" Arnett himself. Oh, and the Breaking Bad boys:
How nice to know that real-life Aaron Paul is as good at puppyish enthusiasm as Jesse Pinkman once was, before Walter White sucked all the joy out of him. Paul responds more or less exactly as Jesse might have, give or take a couple of "bitch"es. Walt, we imagine, would've just blustered about how scientifically unsound that trick was before snapping at Jesse for daring to be impressed.